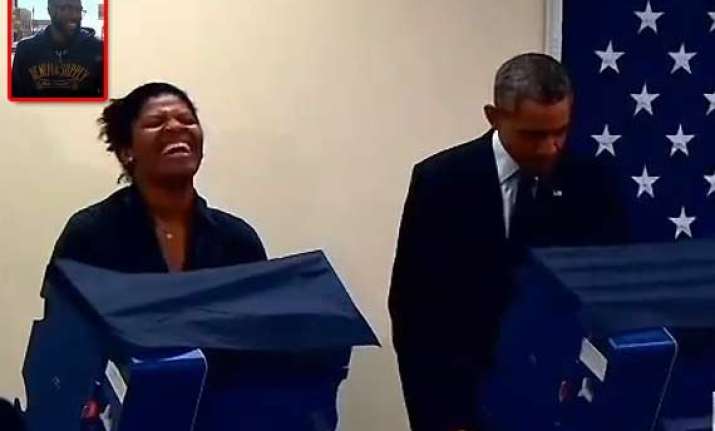 US President Barack Obama might not have ever imagined that one day he would be at recieveing end of a threat!
Relax, it was just a regular voting day in Chicago, when the entire room turned to a new hotspot thanks to the presence of President Obama along with other voters including a jealous boyfriend.  
"Mr. President! Don't touch my girl friend...", pat came a warning when Barack Obama arrived in to cast his vote at the EVM; a dialogue that seems to be simply cut out from a regular Hollywood movie.
Mike Jones instantly spoke out this to the President himself, when he saw him standing at the booth just a hand away from where his girlfriend was standing casting her vote.
Mr. Obama gave a wittier reply to Jones's wisecrack saying, "Well' I wasn't really planning on it."
The girl (Aia Cooper) being discussed here was voting next to the president and she was visibly stupefied and apologized for her boyfriend's daring remark. Referring to Jones, Mr. President laughingly said to Cooper, "An example of a brother, just embarrassing you for no reason."
Mr. Obama funnily imagined how she would retell this story to her friends, "I can't believe Mike, he is such a fool, I was just mortified."
But just before heading out, Obama ensure he kissed the girl on her cheek, to make her boyfriend and was caught saying, "Let's give him something to talk about."