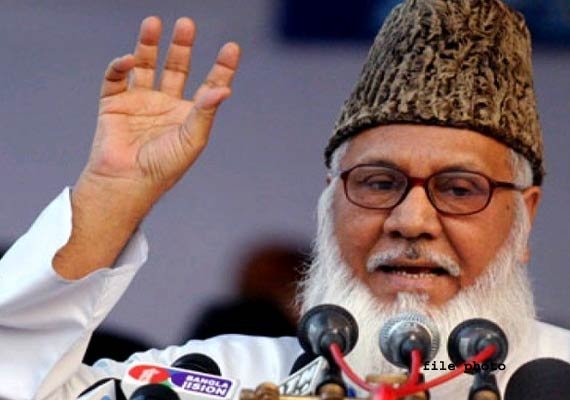 Dhaka: Matiur Rahman Nizami, chief of Bangladesh's fundamentalist Jamaat-e-Islami, was sentenced to death today by a special tribunal for war crimes he committed during the nation's independence war against Pakistan in 1971, triggering violent clashes between his supporters and police.  "He shall be hanged by neck until he is dead," pronounced Enayetur Rahim, the chairman of the three-member panel of judges of Bangladesh's International Crimes Tribunal.
The verdict delivered in a packed court room amid tight security said 71-year-old Nizami deserved no punishment other than the death penalty for the gravity of crimes he had committed by siding with the Pakistani troops.  The court said in the unanimous verdict that eight of the 16 charges levelled against the Jamaat leader were proved beyond doubt.
The charges included leading the execution of intellectuals, mass killing, rape and loot during the nine months of bloodshed 43 years ago.
Witnesses said Nizami was present in the dock and looked indifferent as the judges read out the 204-page judgment in turns which took more than an hour to be delivered.  "It would be a failure of justice, unless he is handed down the death penalty," the verdict said.  
The tribunal said Nizami misinterpreted Islam in carrying out the atrocities and as the then president of Islami Chhatra Sangha—the student wing of Jamaat—he turned the organisation into infamous Al-Badr militia forces to carry out mass killing, particularly of the leading intelligentsia.  The panel convicted him of "superior responsibility" as the chief of Al-Badr militia for direct involvement in the killings and tortures in other charges.
Under the law for the war crimes trial, Nizami could challenge the verdict before the Supreme Court.  Nizami's lawyers said they planned to file an appeal before the apex court.
Nizami, a former minister in the BNP-led four party alliance government during its 2001-2006, was the last high-profile accused to be brought to justice for war crimes as the two special tribunals set up by the Awami League have so far pronounced verdicts in 10 cases.
Immediately after the judgment, Jamaat protested the verdict and issued a statement calling a three-day nationwide general strike to be observed tomorrow, Sunday and Monday.  Jamaat activists and those belonging to Islami Chhatra Shibir attacked police and fought pitched battles with ruling Awami League supporters in Sylhet after the verdict.  About 1,000 Jamaat activists hurled bombs at officers who fired rubber bullets and tear gas in response in the northwestern town of Shibganj, reports said.