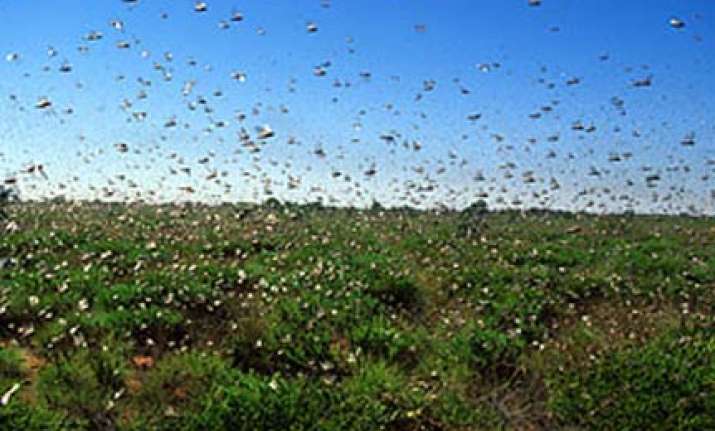 Australian farmers are bracing themselves for the country's worst locust plague in decades following recent wet weather which has created perfect breeding conditions, according to Britain's Sky News.
Federal Agriculture Minister Joe Ludwig told the Australian Broadcasting Corporation that the country is facing its worst locust plague in 75 years.
The states of Queensland, New South Wales (NSW), Victoria and South Australia are all affected, with hundreds of farmers reporting that locust eggs have begun hatching on their land. Steve Wahn, the primary industries minister in the New South Wales government, visited a site near Bourke this week to see for himself the tiny insects which are infesting fields.
"We've seen survival rates of around 80 percent or more from the locusts, whereas in a normal year you'd only get 20 percent or so which could survive," said Wahn. "So this is a huge challenge for us." The annual locust breeding season was boosted by unusually wet and warm conditions over the past year.
At the time, many drought-stricken farmers were delighted with the high rainfall and flooding in NSW and Queensland and were expecting a bumper crop this year.
Farmer Scott Mitchell told Sky News said if crops were destroyed it would be "a bigger disaster than we've had in this whole drought." Aircraft have recently begun spraying farmland with insecticide to try to slow the march of (b) billions of the insects before they mature and begin to fly, Sky reports.
For the first few weeks of their life the tiny nymphs or "hoppers" are relatively easy to deal with, even though they begin to form huge bands which can travel 100 miles (160 kilometres) a day. The first locusts emerged in September, with eggs continuing to hatch across the states until at least November.
The exact timing and speed of hatching depends on local weather conditions, and can be hard to predict. Temperatures above 15 degrees Celsius  encourage egg development, with warmer weather accelerating the hatching cycle. While Australia's state governments are experienced in dealing with localised plagues, extra funding has been pledged to tackle the 2010 swarms.AP