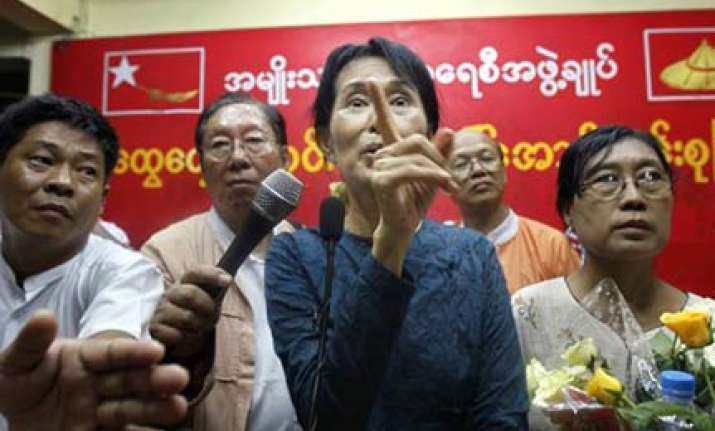 Yangon, Nov 14 : Pro-democracy leader Aung San Suu Kyi called on Sunday for freedom of speech in army-ruled  Myanmar, urged thousands of supporters to stand up for their rights, and indicated she may urge the West to end sanctions.
Suu Kyi's first major speech since being freed from seven years of house arrest a day earlier left little doubt she would resume an influential political role in one of the world's most isolated and oppressive countries.
"The basis of democratic freedom is freedom of speech," she said to roaring cheers from thousands of supporters crammed into a cordoned-off street in front of her party headquarters. "Even if you are not political, politics will come to you."
The 65-year-old Nobel peace laureate, who had lost none of her ability to rouse and mesmerize crowds, offered an olive branch to the military junta, saying she had no antagonism for those who kept her detained for 15 of the past 21 years.
Asked by a reporter what message she had for supreme leader Senior General Than Shwe, she replied, "let's meet and talk."
The address, given in an informal style in contrast to the usual stuffy military speeches that dominate state media, illustrated the strength of Suu Kyi's pro-democracy voice at a critical time, just a week after an election widely condemned as rigged to prolong military power behind a facade of democracy.
"You have to stand up for what is right," Suu Kyi added, urging supporters to be more politically assertive in the former British colony formerly known as Burma, where the army controls nearly every facet of life. "A one woman show is not a democracy."
Later, speaking with reporters, she declined to comment directly on whether she would urge the West to roll back sanctions that many say hurt ordinary people by allowing the junta to monopolize the country's resource-rich economy.
"If people really want sanctions to be lifted, I will consider this," she said. "This is the time Burma needs help. We ask everyone to help us. Western nations. Eastern nations. The whole world...it all starts with dialogue."
Diplomats expect Suu Kyi to work with the West to end sanctions she once supported but which are now seen by many as contributing to chronic economic problems in the country of 50 million people where a third of the population live in poverty.