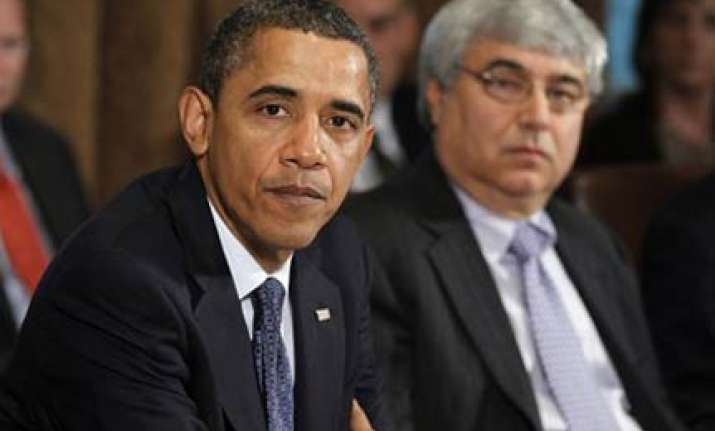 Washington, Nov 5 (PTI) On the eve of President Barack Obama's visit to India, the US said India is an indispensable partner rising on global stage and that lifting restrictions on export control of high technology items and counter- terrorism measures were on the agenda during summit talks.
 The White House also said that it supports and encourages both India and Pakistan to resolve their bilateral issues directly, noting that Islamabad has nothing to fear from Washington's growing ties with New Delhi.
 The White House assessment of Indo-US issues was given by National Security Council spokesman Mike Hammer during a digital video-press conference with foreign journalists in New York and Washington ahead of Obama's departure. Obama is due to hold talks with Prime Minister Manmohan Singh in New Delhi on Monday.
Hammer said lifting of restrictions on exports of dual use items is something that will come up in the course of Obama's visit to India.
"I don't, again, want to get ahead of ourselves in terms of any potential announcements, but it is  complicated, and we're working through it," he added.
The White House official was responding to questions about the statement given by Commerce Secretary Gary Lock that significant announcement is expected on export controls during the President's visit.
Obama too in an interview to the PTI had said these are very difficult and complicated issues.
Hammer said  "in terms of how Pakistan should view the visit to India, the United States does enjoy very positive and fruitful relations with both countries, with both India and Pakistan. And one is not at the expense of the other."
He was responding to a question how Islamabad views Obama's visit to India.
"I think both countries benefit from American engagement in the region, trying to promote greater economic growth, to see that these democracies -- both of them -- need to continue to flourish," he said.
"In the case of India, we have a strategic partnership which we're trying to develop. It's an indispensable partner, one that we recognize is rising on the global stage, one that we want to embrace, because we think that together with India, as we have historically with others with our European partners -- there are many things we can do together that advance both our countries' interests and also that provide for others," Hammer said.
"I think that what you'll see on this trip is a manifestation of some of these ideas. I don't want to get ahead of ourselves in terms of making any announcements. I'll leave that to the President. But clearly we will be working very closely in the future on that," Hammer said.
"I can assure you that strengthening counter-terrorism cooperation will be on the agenda," Hammer said.
"The president will have an event that will focus on this as soon as he arrives at the Taj hotel. On the Headley case," he added, "we shared information relating to terrorist threats as we had them at the time."
Even though Secretary of State Hillary Clinton would not be accompanying Obama on Air Force One, in a break from the past tradition, which officials said is mainly due to scheduling conflict, several members of his cabinet would accompany Obama who will also be joined by his wife Michelle.
Prominent among those accompanying the US President would include Tom Donilon, the new National Security Advisor, Commerce Secretary Gary Locke, Agriculture Secretary, Tom Vilsack and Raj Shah, Administrator of USAID.
According to a White House press advisory, the Presidential aircraft would stop at Ramstein in Germany for refuelling. His scheduled arrival in Mumbai is 12.50 pm on Saturday. Obama would also travel to Indonesia, South Korea and Japan.
Hammer also welcomed the recent Indian decision to sign the Convention on Supplementary Compensation. PTI