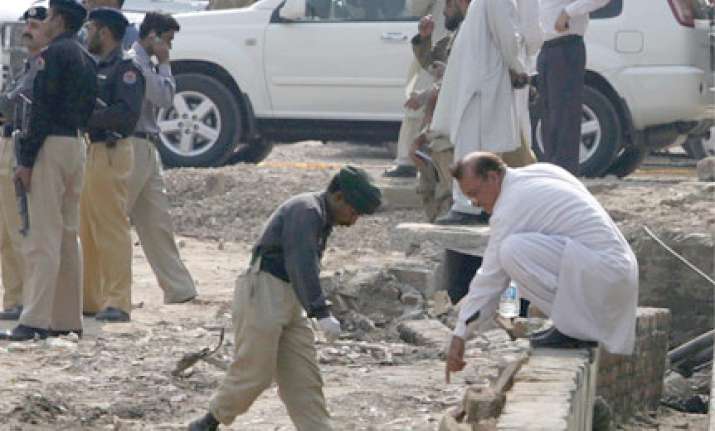 Peshawar: A former parliamentarian was among 29 people killed in three separate bomb attacks that targeted a mosque, a tribal council and members of a anti-Taliban militia on Monday in the restive South Waziristan region of northwest Pakistan. 
The deadliest blast was a suicide attack at a mosque in South Waziristan that killed 18 people.  The bomber detonated his suicide jacket as former lawmaker Maulana Noor Muhammad was delivering a sermon to a group of worshippers in the mosque at Wana, the headquarters of South Waziristan Agency.  Officials said 18 people were killed and a dozen others injured in the attack.
They said the death toll could rise as many of the injured were in a critical condition. The mosque was severely damaged by the blast.  Witnesses said the bomber, who had joined the worshippers, suddenly blew himself up.
 They said they had seen several bodies and human flesh and blood spattered on the walls and floor of the mosque.
 Local residents launched a rescue operation at the mosque and took the injured to a state-run hospital in Wana.
Maulana Noor Muhammad, a noted cleric who was elected to the previous National Assembly or lower house of parliament as an independent candidate, had survived several attempts on his life.
No group claimed responsibility for the suicide attack.
In another incident, eight persons were killed and 10 more injured when a bomb ripped through a jirga or tribal council in the restive Kurram tribal region.
The remote-controleld blast occurred when the jirga was meeting in Khomcha area to settle a dispute regarding the ownership of a school.
A school teacher who was acting as a mediator was among those killed.
No group claimed responsibility for the blast.  In the third attack, three members of a "peace committee" or anti-Taliban militia were killed and two more injured when a roadside bomb went off in Mattani area, 30 km south of provincial capital Peshawar.  Police said the bomb targeted a vehicle of the peace committee. Police launched a search for the attackers.
Hundreds of people have died in clashes between rival Shia and Sunni tribesmen in the Kurram Agency since late 2007.  Meanwhile, security forces arrested  four militants and destroyed their hideout during an operation in Shal Gazyan area of Kurram Agency. PTI