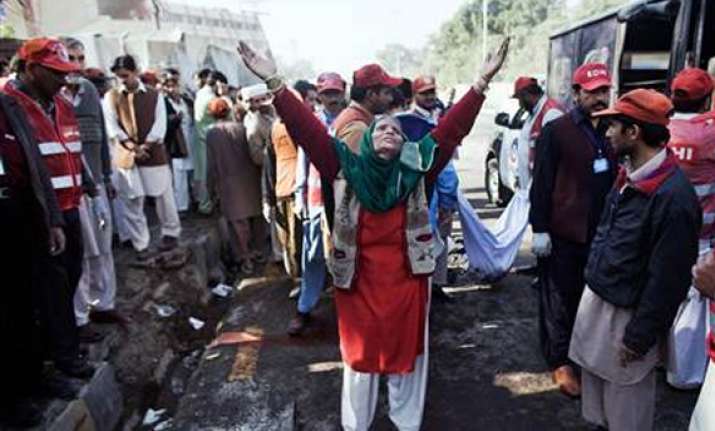 Islamabad, Jun 8: At least 19 people, including women, were killed and over 40 others injured today when a bus packed with government employees was targeted with a powerful bomb in northwest Pakistan.
The bomb was triggered by remote control when the bus carrying Civil Secretariat employees was passing through Charsadda Road in Peshawar, the capital of Khyber-Pakhtunkhwa province, police said.
Provincial Information Minister Mian Iftikhar Hussain said 19 bodies had been received at Lady Reading Hospital and Charsadda Hospital following the blast.
Six women and a young girl were among the dead, he said.  At least five injured persons were in a critical condition, officials said.
No group claimed responsibility for the blast though such attacks are usually blamed on the Pakistani Taliban.  Security forces cordoned off the site after the blast while members of the local bomb disposal squad collected evidence.
Information Minister Hussain said the rear of the bus was affected the most by the explosion, and it was possible that the bomb might have been planted in the vehicle.  He condemned the attack, saying: "Spreading fear and indulging in terrorism is the only reason for such an act.  We are in favour of talks but if they (militants) refuse, we will be forced to take action against them."
Prime Minister Yousuf Raza Gilani strongly condemned the attack.
"Such cowardly terrorist acts cannot weaken the resolve of the government to fight against extremism and terrorism," he said.