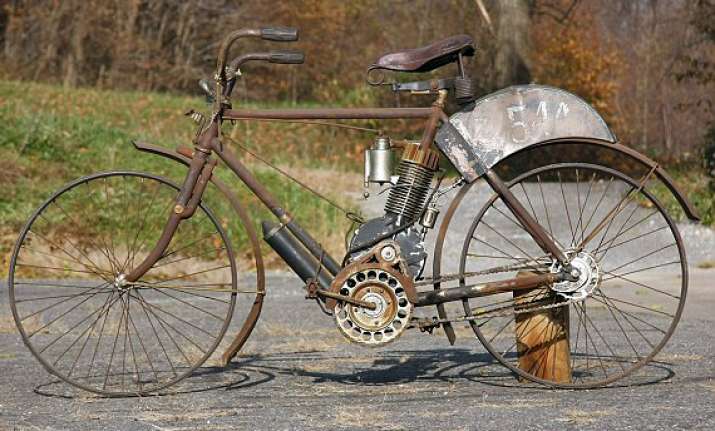 London, Dec 28: A 1906 Indian Camelback, one of the world's first ever two-wheeled motorised cycle is going to fetch as much as £50,000 (Rs 41.48 lakhs) at auction, Daily Mail reported.

The rusty bicycle is desirable to collectors because just 1,698 of such rare bicycles were produced 105 years ago, says the report.

The bicycle packs a 2.25 horsepower, has a single cylinder and top speed of 30 mph.


It was owned by the du Pont family, which bought the 'Indian Motorcycle Manufacturing Company' that built it, and this cycle was last ridden in the Seventies.

Whoever buys the machine will probably use minimum efforts to restore it to a working condition, but complete restoration would see its value reduce, says the report.

The Indian cycles were the great rivals of Harley-Davidson, but the company eventually went bankrupt in 1953.

It had a rudimentary braking system and a hobnail boot on the ground would have been needed to help it stop.

The motorcycle is going under the hammer at Bonhams in Las Vegas, U.S., on January 12.


Ben Walker from Bonhams said: 'This motorcycle is in such demand because of its condition and to restore it would actually take value off.

'The motorcycle will probably be 'oily-ragged', which means wiping it down with oil to preserve it as it is.

'It will probably be rebuilt mechanically but with as little change to its condition.

'India were the great rivals of Harley-Davidson and were at the forefront of motorcycles when they evolved from bicycles.

'It would have been a quick machine with a fair turn of speed and no brakes on early motorcycles were much good - the were the same design as bicycle brakes.

'This is an extremely rare thing and hs come from the du Pont family that owned the company.


'It was a pedal assisted bike and it still has its original registration number on the rear mud guard.

'These motorcycles have never really reduced in value - if I filled a whole sale with them they would all go for good prices.'