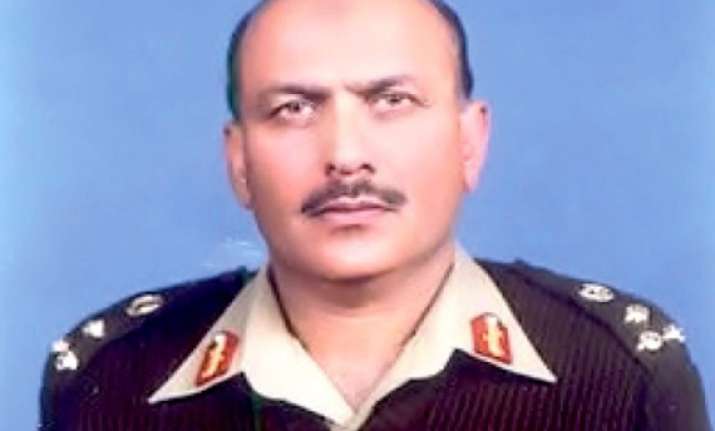 Islamabad, Mar 2 : A Pakistan Army brigadier, currently facing court martial for alleged links with the banned Hizb-ut-Tahrir, had conspired with an air force pilot to bomb the General Headquarters with a F-16 jet during a conference of top commanders.

Brig Ali Khan was arrested last year on suspicion of having contacts with the Hizb-ut-Tahrir. 
He has been accused of trying to stage a rebellion against the government and planning an attack on the General Headquarters in Rawalpindi. His family has denied the charges.

Major Suhail Akbar, a prosecution witness, said in his statement that Khan and some members of Hizb-ut-Tahrir had told him that an F-16 combat jet would be used to target the army's headquarters during a conference of corps or formation commanders.

Akbar said in his written statement to a military court that a F-16 pilot at a military airbase near Rawalpindi was persuaded to carry out the attack. 
Akbar further said Khan also had plans to target an "American-controlled airbase" in Pakistan and installations of the Blackwater security company with an F-16, BBC Urdu reported.

Akbar admitted that he had been meeting Hizb-ut-Tahrir members for seven years. He claimed Khan was present at a meeting of Hizb-ut-Tahrir members in July 2010. 
"I knew for the first time in the same meeting that the Hizb-ut-Tahrir members and Brigadier Ali want to topple the political government and dislodge the military leadership and to take over the country," Akbar said in his statement.

Akbar said that when some young Hizb-ut-Tahrir members asked Khan about his plans, Khan said he could take over the country with the help of 300 to 400 armed men. 
He said Khan told the youths that he would lead the armed men.

"I had contacts with members of Hizb-ut-Tahrir after the meeting and they told me that Brigadier Ali has arranged an F-16 pilot," Akbar said in his statement. 
Akbar further said he learnt  from his contacts that Khan had been saying that he had the sympathy of the head of the 111 Brigade, a unit that has played a key role in past military coups, and several generals. 

Akbar said he refused to join the plot because of the element of violence and as the Hizb-ut-Tahrir forbids the use of violence.

Khan's family has expressed concern about his safety. Khan is facing court martial in Sialkot city of Punjab province and his wife has challenged the proceedings in a civilian court.