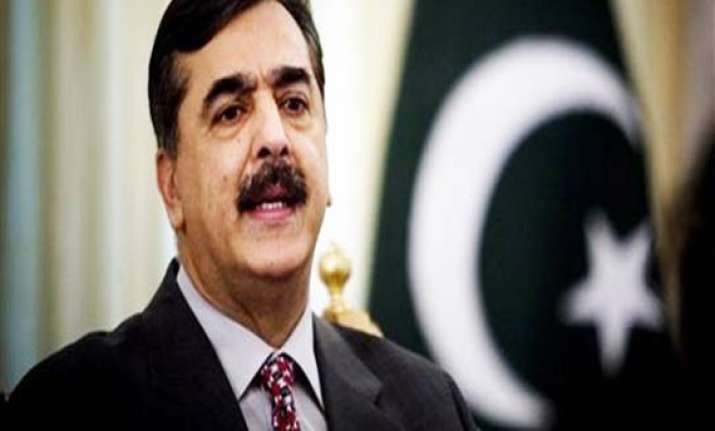 Davos, Jan 29 : Prime Minister Yousuf Raza Gilani on Saturday  said there was "no chance" of a military coup in Pakistan as the army desires democracy and stability in the country.

"I don't think there will be a coup in Pakistan ever. There is no threat to democracy," Gilani told reporters on the sidelines of the World Economic Forum (WEF) at Davos in Switzerland.

No state institution, including the military, or the people of Pakistan want a coup and all stakeholders favour a democracy, he said.

There was "no chance" of a military takeover, he said.  Gilani's remarks came against the backdrop of the worst political crisis endured by his nearly four-year-old government - a stand off with the military over an alleged memo that had sought US help to prevent a possible coup after the killing of Osama bin Laden last year. 

The premier spoke on a host of other issues, including Pakistan-US relations following the cross-border NATO air strike that killed 24 Pakistani soldiers in November last year.

He described the incident as a "turning point" in ties that created a "bad taste".

Even before the NATO attack, there were a number of other incidents that had strained ties between the two countries to a large extent, he said.

On efforts to improve ties with India, Gilani said Pakistan desires good relations with all its neighbours and if New Delhi has any information about terrorist activities, it can be shared with Islamabad.

Described his Indian counterpart Manmohan Singh as a "genuine person" who is desirous of resolving all issues with Pakistan, including the "core issue of Kashmir", Gilani said Pakistan was in the process "of normalising trade relations with India, which will benefit the people of both

Pakistan has decided to put in place new terms of engagement for the US after the attack following the November cross-border NATO attack on Pakistani troops. 
It also cut off NATO supply route, asked the US to vacate Shamsi airbase and boycotted the Bonn Conference on Afghanistan, he said.

Pakistan's parliament will define the new terms of engagement for the US, Gilani said. He hoped these new terms would be "more productive and lasting". 
Under the policies of the previous military regime, former President Pervez Musharraf took all decisions without taking the people into confidence, he remarked.  "If there is no support of the public, no one can win a war," Gilani said.

Asked about US drone strikes in Pakistan's tribal belt, Gilani said the country was against the spy plane campaign as it was "illegal and counterproductive".  Pakistan has conveyed its concerns to the US and it wished to settle all issues as a responsible country and to discuss everything diplomatically, he said
"The (drone) strikes create sympathy for the victims amongst the population that we are trying to lure away from extremism, while at the same time, it lessens space for the government to continue operations against terrorist elements," Gilani said.

He contended that Pakistan had made huge sacrifices in the war on terror as it has lost over 30,000 civilians and 5,000 military personnel and incurred heavy losses on the economic front.

Responding to a question about his government's failure to detect al Qaeda leader Osama bin Laden's presence in Pakistan, Gilani reiterated his contention that "it was the failure of the intelligence agencies of the whole world".