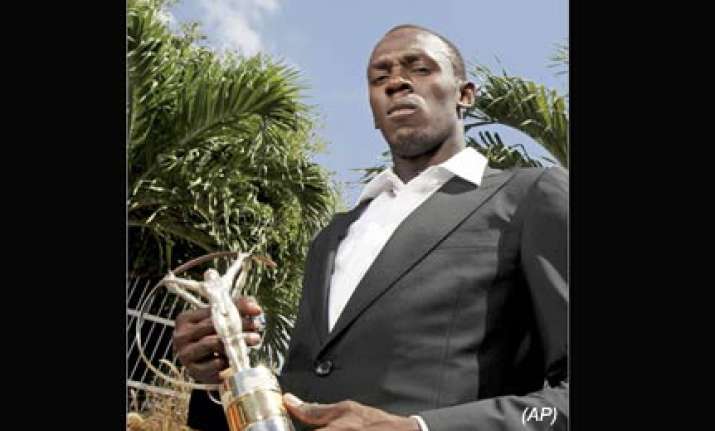 Olympic gold medalist sprinter Usain Bolt won the prestigious Laureus World Sportsman of the Year award for the second consecutive time while American tennis player Serena Williams bagged the women's prize in a glittering function at the Emirates palace in Abu Dhabi.  
The Jamaican was honoured for his sterling performances this year, where he won three more gold medals at the World Championships, continuing his amazing blitz on sprinting after the 2008 Beijing Olympics.  
Bolt, nicknamed "Lightning Bolt", pipped other strong contenders for this award such as tennis sensation Roger Federer, who won French Open and Wimbledon last year, FIFA footballer of the year Lionel Messi.  
Bolt, who was not personally present at the function, send his message through a video conference after winning the award.  
"I am focusing on 2012 London Olympics and breaking more records. But I am not keen on running 400m hurdles," an ecstatic Bolt said.  
Sizzling tennis star Serena, who won two grand slam title Australian Open and Wimbledon last year now stands only second to Roger Federer, who has so far won Laureus award four times.  
Williams had won the Laureus comeback award in 2007, while Federer won the Laureus Sportsman of the Year award from 2005-2008.  
The ace tennis star rose to the peak of tennis when she regained the world No 1 ranking for the fifth time in her career. She also broke the record set by Justine Henin for the most prize money earned by a female tennis player in one season with a total of USD 6,545,586 during the year.  
Serena, who also couldn't make it to the event, said she was delighted to have won the award.
"I am very happy to win this Award. I feel bad that I cannot be in Abu Dhabi. It's my third Laureus Award and I would like to thank all the Academy Members who voted for me and to the world's media who nominated me. Its is great to have got so much support after last year's ups and downs," she said through video conference.  
"As a tennis player you look at the amazing names of the Academy Members - like John McEnroe, Martina Navratilova, Boris Becker and Monica Seles - who have won so many Grand Slams and they know what it takes to do that. There is nothing better in sport than being acknowledged by the people that you looked up to when you were a young player," she added.  
"I think I was also nominated four more times. I know only Roger Federer has more Awards, so it would be cool to catch him up."
About the 2010 season, Serena said it will be an exciting year with Henin and Kim making a comeback. "I've had a few injury problems over the years, so it's been great to get back to the top and be World No 1 again. It's going to be an interesting year with Justine Henin back, but I'm playing well and I want to win every tournament I play."  
Among others, reigning Formula One World Drivers' Champion Jeson Button won the Breakthrough of the year Award, while his last year's team Brawn GP was named Laureus World Team of the year.  
Belgium sensation Kim Clijsters, who shocked the world by winning the US open on her come back to tennis after an absence of two years following her retirement, won the Laureus Comeback of the Year Award.  
South African swimmer Natalie Du Toit, who won five golds during the 2008 Summer Paralympics, won the Laureus disability award, while Australia's three-time World surfing champion Stephanie Gilmore was named Laureus World action Sportsperson of the Year.  
Academy member Nawal El Moutawakel received the Laureus lifetime achievement award for her work for women in sport and the International Olympic committee. And the sport for good award went to American basketball legend Dikembe Mutombo for his charitable work in his native Congo.  
The Awards Ceremony was attended by global figures from the world of sports and entertainment, including Franz Beckenbauer, Boris Becker, Ian Botham, Sergey Bubka, Nadia Comaneci, Kapil Dev, Emerson Fittipaldi, Cathy Freeman, Mika Hakkinen, Mike Horn, Edwin Moses, Nawal El Moutawakel, Monica Seles, and Steve Waugh.  
Among the Hollywood stars were double Oscar-winning actor Kevin Spacey, who hosted the glittering Awards Ceremony, Oscar-winning actress Gwyneth Paltrow, UK film stars Hugh Grant and Clive Owen, US actors Kyle MacLachlan from Desperate Housewives and Michelle Rodriguez who played leading roles in the Oscar-winning movie 'Avatar' and the TV series 'Lost'.  
Also present were Grammy nominated singer-songwriter Mika, England Test cricketer Andrew Flintoff, Formula One winner David Coulthard, world boxing champion Amir Khan, Olympic rowing legend Steve Redgrave, and supermodel Jessica Michibata. PTI