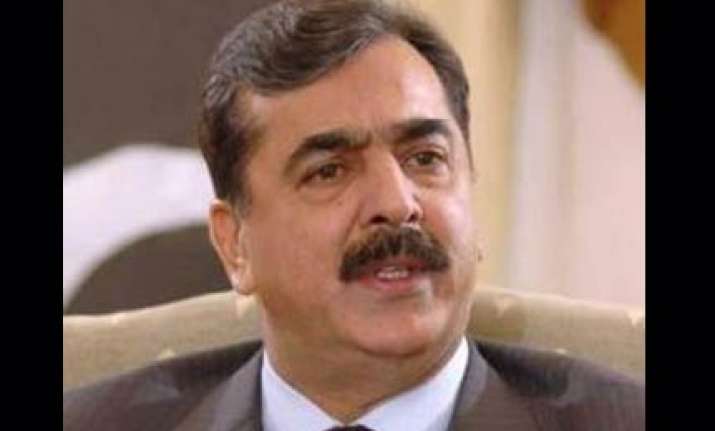 Islamabad: Pakistan government, reeling under criticism of not moving fast enough on flood relief, has faced another embarrassment with the media reporting that Prime Minister Yousuf Raza Gilani has twice visited "dummy" relief camps.  
A fortnight after it came to light that a "dummy" relief camp had been set up in a flood-hit area for Gilani's visit, the Prime Minister faced a similar embarrassment while touring an inundated region in northwest Pakistan.  
During Gilani's visit to Dera Ismail Khan district in Khyber-Pakhtunkhwa province yesterday, hungry flood-affected people were brought to a hurriedly established relief camp in Shorkot area.  
The camp was set up hours before Gilani's visit and hundreds of flood victims waited a long time in the searing heat to get relief material from a truck loaded with flour that was parked by a road.  
The media reported that Gilani visited the camp for a few minutes, asked an old man a few questions about the cost of rebuilding a two-room house and left without distributing any cheques or announcing any measures for affected people.  
Khyber-Pakhtunkhwa Chief Minister Ameer Haider Khan Hoti, who was accompanying the premier, summoned a local official who acknowledged the camp was established in the morning.  
The official contended the camp was genuine.  However, the "relief camp" was wound up soon after Gilani left.  People in the area said the camp was set up early in the morning and they were told that they would get some help from the Prime Minister if they gathered in the area.  
They said they waited for hours to get some relief material.  Some unidentified men were seen speaking in whispers to flood victims who talked to reporters in an apparent attempt to prevent them from revealing the truth about the camp.  
One man, who was asked by the media whether the camp was genuine, said it was set up yesterday morning.  He said he would not lie as he was observing the fast during the holy month of Ramzan.  
Mohammad Shafi, an old man, said he was living in the open near his destroyed house.  
"At times there is no food and we starve," he said.  Other people said there was an urgent need for about 5,000 tents but only about 100 people had been provided shelter.  
Another flood victim claimed tents were being given only to persons favoured by influential people and that some persons got more than one tent.  
Gilani faced major embarrassment when he visited a "dummy" relief and medical camp in Mianwali area of Punjab on August 4.  He toured the camp and even handed out cheques for Rs 5,000 to "patients" at the camp, who disappeared shortly after he left the area.  
The incident was widely covered by the local media and prompted the Prime Minister to order an inquiry.  The findings of the probe are yet to be made public. PTI