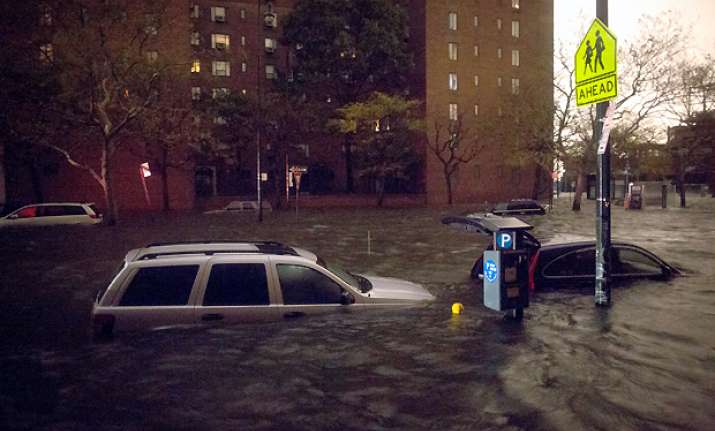 New York, Oct 31 : Sandy, the most devastating storm to hit the US in decades, killed nearly 50 people as it struck densely populated US East coast region leaving a trail of destruction and millions of water-logged homes in darkness.
The storm hit the East coast region spanning the Eastern Seaboard from North Carolina to Connecticut, cutting off communication and leaving millions of people shivering without power as thousands were evacuated from flooded neighbourhoods.
Among the US states hit by the megastorm, New York and New Jersey bore the brunt of the disaster. In New York, where 18 people died, the New York Stock Exchange was shut for two straight days for the first time since 1888.
The trail of destruction left by the monster storm prompted President Barack Obama to declare it a "major disaster" in New York and New Jersey.
The two states combined together have one of the largest concentrations of Indian-Americans in the US. Quite a number of Indian-Americans, particularly in New Jersey, had to leave their flooded homes and had to be evacuated.
Obama, who suspended his campaign and took charge of the rescue operations, described the crisis as "heartbreaking", warning Americans that the storm was "not yet over".
"This storm is not yet over," Obama said during his trip to the headquarters of the American Red Cross in Washington.
Obama drove down to the Red Cross office headquarters to review rescue and recovery operation and said the federal government would push hard to provide resources to the States badly hit by Sandy.