Follow us on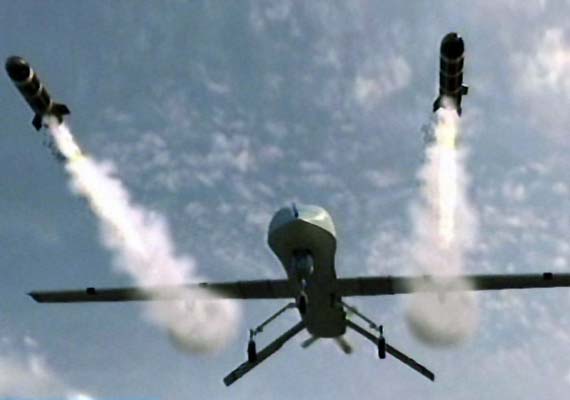 Washington, Jan 23: Drone attacks are making US "extremely popular" in Pakistan, said a former chief of US intelligence who cautioned that covert action there has "never led to good results".
"There's something about Pakistan and covert action that has never led to good results," Retired Adm. Dennis Blair, who served as President Barack Obama's first director of national intelligence, told reporters Tuesday on a Council on Foreign Relations conference call.
The "current open secret covert-action drone programme in Pakistan, which does nothing except enable the Pakistanis to allow us to do it, unofficially, and then officially to attack us for it and thereby make us extremely unpopular in Pakistan," he said.
"It interferes with all sorts of other objectives with Pakistan and is also anomalous," Blair said cautioning against making "all of our policies for the use of drones dependent on what goes on in Pakistan".
Drones should be thought of as "long-range snipers, in the military sense", Blair said on the call with scholar Michael Zenko, who recently published a report on reforming drones' use.
Despite his support, he recognized the limitations. "I'm not as much a believer that drones are 'wonder weapons' as other people," Blair said.
Both Zenko and Blair were concerned the way in which the use of drones goes unexplained to the public and that the justification for their role in targeted killing is tightly held.
That combination negatively impacts the US mission in the countries it is trying to impact, Zenko argued.
"Drones are the face of US foreign policy" in Pakistan and Yemen, he said. "We allow the Taliban, and the Pakistani (intelligence agency), to tell the story of how our drones are being used, which is a tremendous strategic communications lapse."
Asked about the difference between drone programmes operated by the Department of Defence and the Central Intelligence Agency, Blair said the CIA run programme in Pakistan falls under aims to be covert, with the entire programme classified.
This distinction, Blair said, allows Pakistan to have the best of all worlds on the programme, allowing the US to take care of shared militant threats while vehemently denouncing Washington.