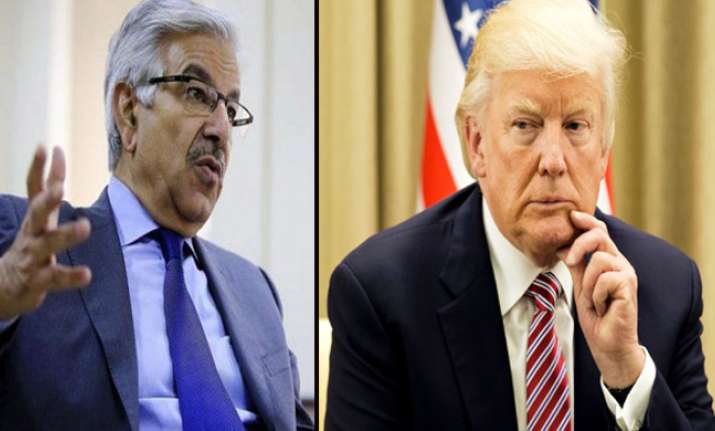 In response to Donald Trump's accusations of "lies and deceit", Pakistan foreign minister Khawaja Asif today tweeted, "You ask what we've done?... From our bases you carried out 57,800 attacks on Afghanistan...thousands of our civilians and soldiers became victims of the war initiated by you". 
In a series of emotional tweets, Asif stressed on the sacrifices made by Pakistanis, adding that they did wrong by trusting the US for years. 
"Our forces are fighting an unusual war, there is an unending saga of sacrifices. Now, history teaches us not to blindly trust the US. We are feeling sorry they are not happy, but we will not compromise on our dignity anymore," said Asif.
The foreign minister began his series of tweets by taking a jibe at the former dictator Pervez Musharraf, the then President of Pakistan when the 9/11 attacks occurred in New York. 
"A ruler surrendered in a single phone call, our country, we went through the worst bloodbath," said Asif.
He further added that Pakistan was a fool that it got involved in the United States' war. 
"The United States has foolishly given Pakistan more than 33 billion dollars in aid over the last 15 years, and they have given us nothing but lies & deceit, thinking of our leaders as fools. They give safe haven to the terrorists we hunt in Afghanistan, with little help. No more!," tweeted Trump, on January 1, 2018.
Trump's tweet didn't go down well with Pakistan, as it summoned the US envoy the very next day. 
Asif in a tweet challenged President Trump's claim that the US has given Pakistan more than USD 33 billion dollars as aid over the last 15 years, saying verification by an audit firm would prove the US president wrong.
Asif said not only did Pakistan find terrorists for the US, it also opened itself up for operatives of the now disgraced Blackwater, a firm of private military contractors.
"We issued tens of thousands of visas as a result of which the networks of Black Water spread across our country. And for the past four years, we have been cleaning up (their) rubbish," said Asif. 
Meanwhile, the White House today said that it would announce specific actions against Pakistan this week to force it to crack down on terrorists on its soil.