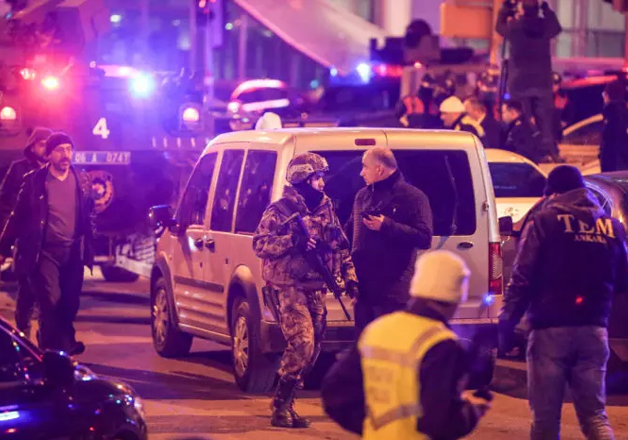 World leaders have come together to condemn the despicable shooting of Russian Ambassador Andrei Karlov in Turkey.
Calling the assassination of Russian envoy as a 'senseless act of terror', outgoing United Nations Secretary-General Ban Ki-moon said, "There can be no justification for the targeting of diplomatic personnel and civilians. We are following the unfolding situation closely and wishing the other people who were reportedly injured in the attack a speedy and full recovery.
Strongly condemning Karlov's assassination, the US said that 'this heinous attack on a member of the diplomatic corps is unacceptable'.
"We stand united with Russia and Turkey in our determination to confront terrorism in all of its forms," US National Security Council Spokesperson Ned Price said.
Turkish President Recep Tayyip Erdogan described it as a 'provocation' aimed at ruining Turkey-Russia ties.
"Turkey-Russia relations were vital for the region and those who aim to harm ties are not going to achieve their goals," Erdogan said.
The Turkish President said he had a phone conversation with his Russian counterpart Vladimir Putin, who offered to send security officers to Turkey for the investigation.
Britain described the shooting as a 'cowardly attack' and said that it is a 'matter of concern' for all.
"Shocked to hear of despicable murder of Russia's Ambassador to Turkey. My thoughts are with his family. I condemn this cowardly attack," Boris Johnson, the Foreign Secretary, said.
Other European countries also spoke out against the shooting, with French President Francois Hollande saying he "strongly" condemned the killing. 
German Interior Minister Thomas de Maiziere said his country stood with Turkey in a common fight against terrorism.
Karlov, who served as Russian ambassador to Turkey since 2013, was shot dead by a gunman when he spoke at the opening of an art exhibition in Ankara. 
The assassination came one day before Turkish Foreign Minister Mevlut Cavusoglu heads to Moscow for talks on Syrian with his Russian and Iranian counterparts.
The gunman was shot dead at the scene and identified as 22-year-old Turkish police officer Mevlut Mert Altintas.