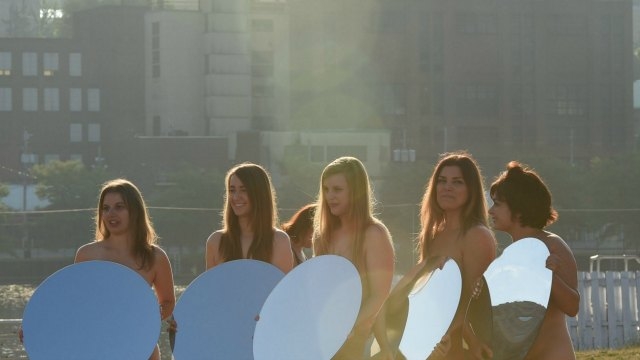 Cleveland: As many as 130 women gathered to protest against the US Republican nominee Donald Trump in Cleveland when a photographer called for a blend of art with politics.
The protest went an unusual way as the women stripped and posed naked with mirrors in their hands to paint Trump in bad colours and declare him unfit for the White House.
Spencer Tunick, the photographer who captured the ladies with his camera, dubbed Trump a "loser".
The photoshoot was conducted on the eve of the Republican National Convention, where the New York billionaire is to be anointed party's nominee for President.
The sunrise shoot, entitled "Everything She Says Means Everything", was carried out on a private property where the convention is scheduled for today. The owner of the place had permitted the shoot.
The photograph that features over one hundred women of all shapes, sizes and colors will be unveiled shortly before the November 8 election.
The mirrors that the women carried in their hands reflect "the knowledge and wisdom of progressive women and the concept of 'Mother Nature'... onto the convention center, cityscape and horizon of Cleveland," said Tunick's website.
Extremely upset with Trump, Tunick said, "I have two daughters and a wife. I can't believe the language and rhetoric of hate against women and minorities coming from the Republican Party."
He said he wanted to more than voting against him at the ballot box in November.
One of the participants of the shoot, MaPo Kinnord, 55, an art professor and artist, said she loved Tunick's work.
"To be totally naked and out in the open and to be fearless is what we need to be," she explained.
Morning Robinson, 18, who took part with her mother, said she wanted to express herself freely by doing something different.