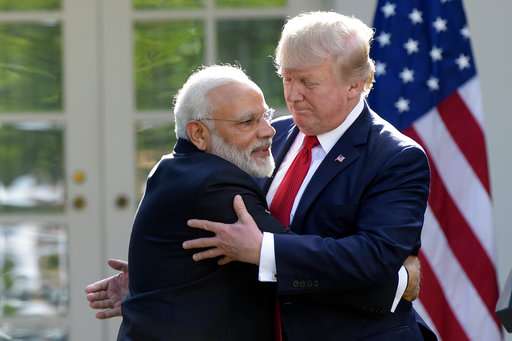 It was the first ever meeting between the leaders of the two largest democracies of the world and the camaraderie between Prime Minister Modi and President Trump was on full display as the two leaders heaped praise on each other at the White House. 
Not only that, the two leaders hugged each other no less than three times during their first bilateral meeting.
While President Trump said that  India has a "true friend" in the White House, PM Modi on his part said he deeply appreciates Trump's strong commitment to the enhancement of bilateral relations. 
 
Trump said the friendship between the United States and India is built on shared values, "including our shared commitment to democracy."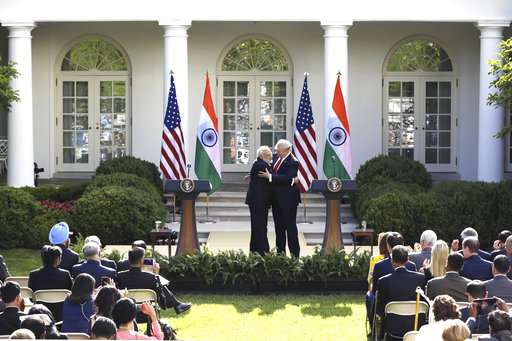 President Trump and PM Modi hug at White House
"During my campaign, I pledged that if elected, India would have a true friend in the White House. And that is now exactly what you have, a true friend," Trump said at the White House Rose Garden following his first bilateral meeting with Modi. 
"I am thrilled to salute you, Prime Minister Modi, and the Indian people for all that you are accomplishing together.  Your accomplishments have been vast," Trump said.  
PM Modi reciprocated by praising President Trump for his successful experience in the business world and hoped that will it lend an aggressive and forward-looking agenda to the relations between the two countries. 
"I am sure that under your leadership, our mutually beneficial strategic partnership will gain new strength, new positivity, and will reach new heights, and that your vast and successful experience in the business world will lend an aggressive and forward-looking agenda to our relations," he said.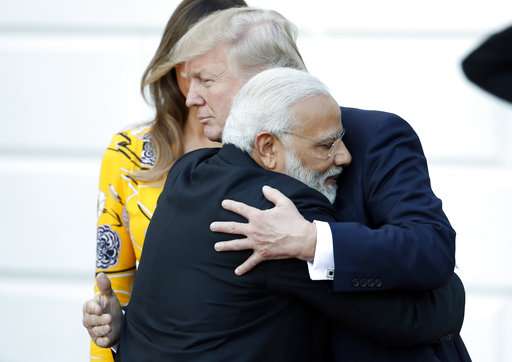 President Trump and PM Modi hug at White House
Modi said he would like to thank Trump for his "great leadership" in building US-India relations.  
"Be assured that in this joint journey of our two nations towards development, growth and prosperity, I will remain a driven, determined, and decisive partner," he said.  
Trump said he enjoyed his "very productive conversation" with Modi, saying the "the future of our partnership has never looked brighter. India and the United States will always be tied together in friendship and respect." 
After Trump finished his speech, Modi walked towards the US president and hugged him. 
After Modi's speech, the two leaders again briefly embraced. 
Yet another hug was to come between the two, this time at the White House portico, as Modi departed for his hotel.
(With PTI inputs)