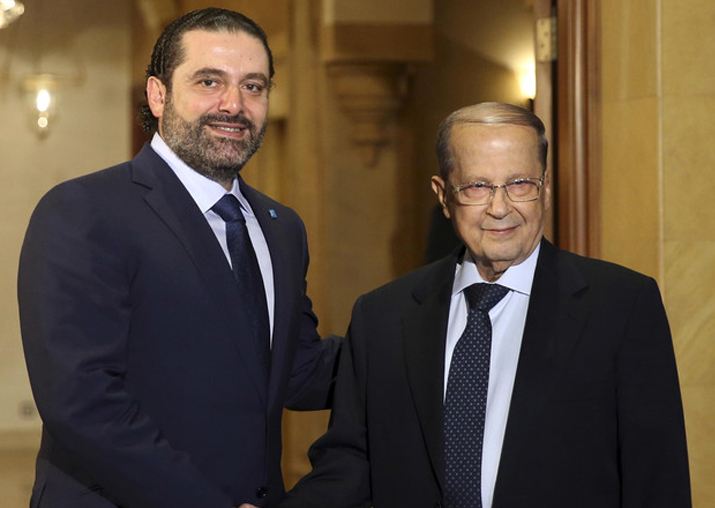 Lebanon's state-run National News Agency today reported that President Michel Aoun has received a telephone call from Prime Minister Saad Hariri after his arrival in Paris and Hariri informed him that he will take part in Independence Day celebrations in Beirut next week.
Lebanon will mark Independence Day on Wednesday and there have been concerns about whether Hariri will attend the annual celebrations. The ceremony is usually headed by the President, Prime Minister and Parliament speaker.
It is the first official comment on when Hariri is likely to be back in Beirut since his November 4 resignation through a broadcast on a Saudi-owned TV station from Saudi Arabia.
NNA quoted a presidential statement saying that Hariri informed the President that he arrived in Paris with his wife earlier Saturday.
The office of Lebanese Prime Minister Saad Hariri said that he has arrived in Paris with his wife from Saudi Arabia without mentioning two of his children.
The statement added that Hariri will meet French President Emmanuel Macron later and have lunch with him along with his wife, Lara, and older son Hussam.
The statement did not mention Hariri's younger son, Abdul-Aziz, and daughter Loulwa.
Lebanese local media outlets said that Hariri's younger children are still in Saudi Arabia where they are attending school. Hariri's older son, Hussam, studies in Britain and arrived in Paris to meet his parents.
Hariri's cousin and close aide, Nader Hariri, was seen walking into the Paris residence on Saturday morning. Nader Hariri told the local LBC TV that he arrived alone in Paris without other family members from Lebanon.
Hariri's resignation in a broadcast from Saudi Arabia on November 4 has thrown Lebanon into a serious political crisis. Lebanese President Michel Aoun refused to accept it, accusing the Saudis of holding him against his will.