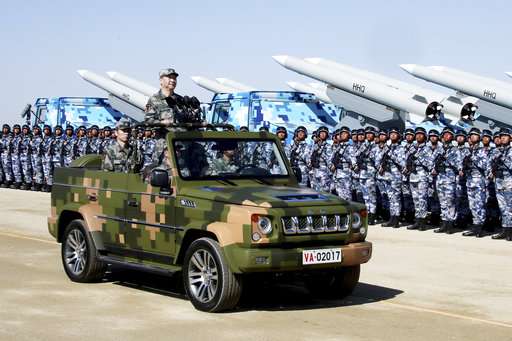 Chinese President Xi Jinping today said that his country will never seek aggression but made it clear that no one should expect them to tolerate any challenge to Beijing's sovereignty, security or development interests.
"The Chinese people love peace. We will never seek aggression or expansion, but we have the confidence to defeat all invasions. We will never allow any people, organisation or political party to split any part of Chinese territory out of the country at any time, in any form," Xi said while addressing the ceremony to mark the 90th anniversary of the People's Liberation Army (PLA).
"No one should expect us to swallow the bitter fruit that is harmful to our sovereignty, security or development interests," he added.
Xi's remarks came amid the Sino-India standoff in the Sikkim section. His remarks came in the midst of massive official media campaign by the foreign and defence ministries here accusing Indian troops of trespassing into Chinese territory at Doklam.  
This is the second time in three days that Xi spoke of the PLA's capability to thwart invasions.  
On July 30, Xi during a massive PLA parade had said, "I firmly believe that our gallant military has both confidence and ability to defeat all invading enemies".  
Like his earlier address, there was no direct reference in his speech to over a month-long India-China military standoff at Doklam in the Sikkim section.
National Security Advisor Ajit Doval last month during the Brazil, Russia, India, China, South Africa NSAs meet here on July 27-28 also held separate talks with his Chinese counterpart Yang Jiechi. 
Both the countries are tight-lipped about the outcome of Doval-Yang talks.
China marked the 90th anniversary of the People's Liberation Army's (PLA) today with a grand rally held at the Great Hall of the People in Beijing.
Xi, who is also the general secretary of the Communist Party of China'S (CPC) Central Committee and chairman of the Central Military Commission, said the PLA has transformed from "millet plus rifles" single-service force to one that has fully-fledged services.
He reaffirmed the CPC's absolute leadership over the PLA.
"To build a strong military, (we) must unswervingly adhere to the Party's absolute leadership over the armed forces, and make sure that the people's army always follow the Party," Xi told the gathering.
Xi called for a new generation of "capable, brave and virtuous" army "with souls" in order to build a stronger military.
Calling political work the "lifeline" of the PLA, Xi said troops must have ironclad faith, beliefs, disciplines and responsibilities, and retain their nature and tenet as the people's army. 
The PLA was founded on August 1, 1927, during the Nanchang uprising against then-ruling Kuomintang party. 
The later civil war resulted in founding the People's Republic of China in the mainland China on October 1, 1949.
(With agency inputs)