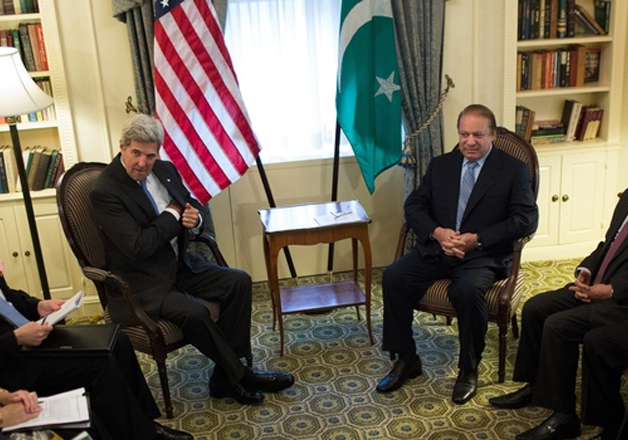 Expressing serious concerns over the violence in Kashmir, particularly the terror attack on an Indian Army base in Uri, US Secretary of State John Kerry today asked Pakistani Prime Minister Nawaz Sharif to prevent terrorists from using Islamabad as safe havens.
US State Department Deputy Spokesperson Mark Toner said that the US wants to see more progress from Pakistan in dealing with the terror groups effectively.
Toner said that Washington will continue to press Pakistan to take 'additional steps' to deal with terror groups seeking refuge within its borders.
"We've seen some progress; we want to see more, and I think moving forward we'll just continue to work closely and try to encourage greater counterterrorism cooperation with Pakistan but also within the region," Toner said.
Later, State Department Spokesperson John Kirby said that Kerry "reiterated the need for Pakistan to prevent all terrorists from using Pakistani territory as safe havens, while commending recent efforts by Pakistani security forces to counter extremist violence."
"The Prime Minister and Secretary Kerry expressed strong concern with recent violence in Kashmir - particularly the army base attack - and the need for all sides to reduce tensions," he said.
The reaction comes a day after Kerry met Sharif on the sidelines of the 71st session of the UN General Assembly. Sharif had raised the issue of alleged human rights violations and killings in Kashmir and sought American help to resolve the Kashmir issue.
Sharif's meeting with Kerry was among his first bilaterals in the city and Kashmir featured prominently in his side of the talks. 
However, reports suggested that Sharif's agenda of raking up the Kashmir issue did not find favour with Kerry. Notably, there was no mention of Kashmir or India in Kerry's remarks. 
His meeting with British Prime Minister Theresa May also yielded a similar response. As per reports of the interaction, "The British Prime Minister acknowledged Pakistan's efforts in promoting economic stability and tackling terrorism. She also appreciated Pakistan's efforts in bringing about peace in Afghanistan."