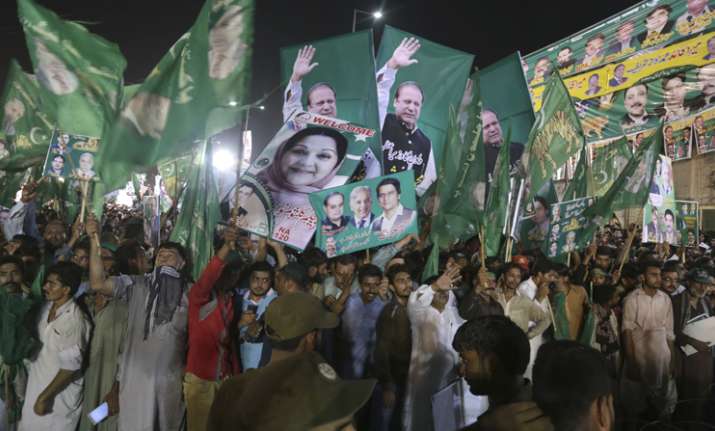 A day after a candidate backed by Hafiz Saeed's Jammat-ud-Dawah finished third in crucial by-poll which was won by former Pakistan Prime Minister Nawaz Sharif's wife, a political outfit launched by the Mumbai terror attack mastermind said that it will contest all seats in next year's general elections. 
Last month, Jamaat-ud-Dawah, a front for the Saeed-led Lashkar-e- Taiba militant group that carried out the deadly 2008 Mumbai attack, announced that it was launching a political outfit named Milli Muslim League. Sheikh Yaqoob, a senior member of the outfit, contested yesterday's election against Nawaz Sharif's wife Kuslsoom from a parliamentary seat that fell vacant after he was disqualified by the Supreme Court. 
Although backed by the JuD, Yaqoob could not contest the election from Milli Muslim League, launched just before the NA-120 by-poll, so as the Election Commission of Pakistan is yet to register it as a political party. He contested as an independent candidate and finished third behind Kuslsoom and Imran Khan's Pakistan Tehreek-i- Insaf candidate Yasmin Rashid. A spokesperson from the Election Commission said that Kulsoom bagged 59,413 votes defeating Rashid who got 46,145 votes while Yaqoob stood third with more than 4,000 votes. 
The resulted has boosted the confidence of the JuD which today announced that it will contest all seats in 2018 general elections. 
Yaqoob said the Milli Muslim League "will field candidates in every constituency of the country in next year's election." 
Yaqoob was placed in 2012 on a US Treasury sanctions list of those designated as leaders of terrorist organisations, according to New York Times report. 
"We have got a very good response in NA-120. It was our first election and people have welcomed us," said Yaqoob. "We are here to stay in the political field. People want a party that talks about making Pakistan strong against its enemies - India, United States and Israel and at the same time help them in solving their basic livelihood problems." 
The JuD formed Milli Muslim League at the time when Saeed was detained in Lahore. 
Saeed and his four aides - Abdullah Ubaid, Malik Zafar Iqbal, Abdul Rehman Abid and Qazi Kashif Hussain - were placed under house arrest in Lahore on January 30 under anti- terrorism act. 
The JuD has been declared as a foreign terrorist organisation by the United States in June 2014. Saeed also carries a USD 10 million American bounty on his head for his role in terror activities.
(With PTI inputs)