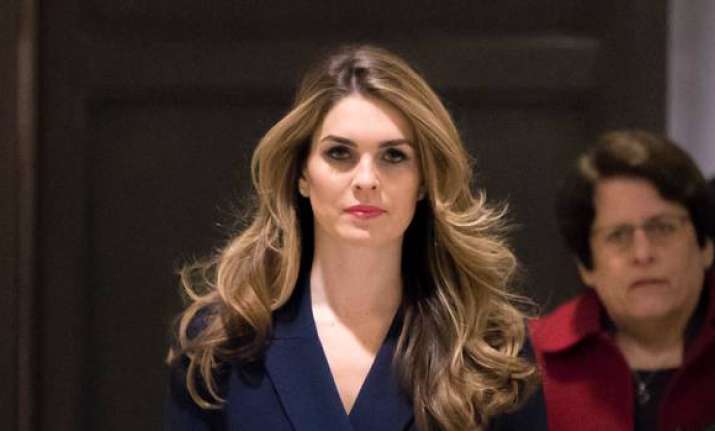 Yet another person is about to quit Trump Administration. Hope Hicks, White House Communications Director, is set to become the fourth person to leave the post during US President Trump's tenure. She announced her intent to resign on Wednesday.
The 29-year-old former model and ex-Trump Organization employee has been one of US President's longest-serving advisers, BBC reported.
She is reported to have told colleagues she felt she had accomplished all she could in the White House.
White House spokeswoman Sarah Sanders said it remained unclear when Hicks would leave the administration.
The news comes a day after Hicks was interviewed for nine hours by the House panel investigating Russia interference in the 2016 election and contact between Trump's campaign and Russia. 
In a statement, Trump praised Hicks for her work over the last three years, saying he "will miss having her by my side." Hicks, who occupied the desk closest to the Oval Office in the West Wing, has been a central participant in or witness to nearly every milestone and controversy of the Trump campaign and White House. 
She began her White House tenure as director of strategic communications - a title that only partly captured her more expansive role as the president's gatekeeper to the press. 
Hicks acknowledged to a House intelligence panel Tuesday that she has occasionally told "white lies" for Trump. But she said she had not lied about anything relevant to the Russia investigation. 
She has also been interviewed by special counsel Robert Mueller, in his expansive probe of Russian interference of the 2016 election and potential misdeeds committed by those in the president's orbit. 
Hicks said in a statement, "There are no words to adequately express my gratitude to President Trump." She added she wished Trump and his administration the "very best."
A former Ralph Lauren fashion model and public relations pro who worked for Trump's daughter Ivanka, Hicks, 29, had no political background when Trump asked her to serve on his campaign. 
Before today's announcement, Hicks had not been happy for some time, said one person with knowledge of her thinking who was not authorized to discuss the matter publicly.
That person said Hicks had been increasingly feeling the stress of the position. 
Hicks, who has long tried to avoid media attention, was thrust into the spotlight recently when it was revealed she had been dating former Staff Secretary Rob Porter.
He left the administration after accusations that he had abused his two ex-wives became public. 
Hicks helped craft the White House's initial supportive response.
(With inputs from IANS, AP)