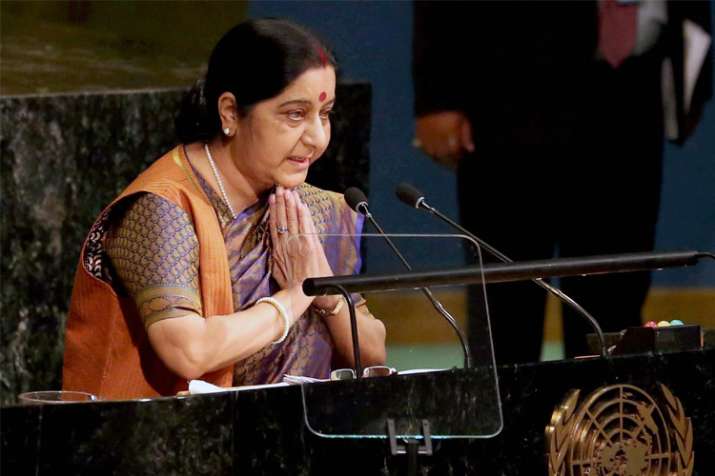 Denouncing Pakistan as the "world's greatest exporter of havoc, death and inhumanity", External Affairs Minister asked Islamabad on Saturday as to why after gaining Independence together 70 years ago, India was an IT power and produces engineers and doctors wile Pakistan only produces jihadis who are threat to the world. 
In her address to the 72nd UN General Assembly session, Swaraj accused Pakistan of waging a war against India and said that if it used its resources to stamp out terrorists in its territory the world would get rid of the scourge of terrorism.
"There have been many governments under many parties during 70 years of Indian freedom, for we have been a sustained democracy. Every government has done its bit for India's development," said Swaraj, highlighting India's achievements in the fields of education, health, space etc.
"Whereas we produce IITs and IIMs, you (Pak) have produced LeT and Jaish-e-Muhammed. We have produced doctors and scientists, you have churned out terrorists and jihadis. While a doctor saves lives, jihadis kill," she added.
Swaraj's remarks were a respond to Pakistan Prime Minister Shahid Khaqqan Abbasi's charge of "atrocities" in Jammu and Kashmir.
Referring to Abbasi's speech, Swaraj said that the Pakistani leader 'wasted' too much of his time in making accusations against India.
"Those listening had only one observation: 'Look who's talking!' A country that has been the world's greatest exporter of havoc, death and inhumanity became a champion of hypocrisy by preaching about humanity from this podium," Swaraj said.
Commenting on Abbasi's claim that Pakistan's founder Mohammad Ali Jinnah had bequeathed a foreign policy based on peace and friendship, Swaraj said while it remains open to question whether Jinnah actually advocated such principles, what is beyond doubt is that Prime Minister Narendra Modi has offered the hand of peace and friendship since he assumed office.
"Pakistan's Prime Minister must answer why his nation spurned this offer," she said.
On old UN resolutions mentioned by Abbasi, Swaraj said that the Pakistani leader's memory has conveniently failed him where it matters. "He has forgotten that under the Shimla Agreement and the Lahore Declaration India and Pakistan resolved that they would settle all outstanding issues bilaterally. The reality is that Pakistan's politicians remember everything, manipulate memory into a convenience. They are masters at 'forgetting' facts that destroy their version," Swaraj said in a hard-hitting response to Pakistani PM's speech.
Noting that Abbasi spoke of a "Comprehensive Dialogue" between the two countries, Swaraj reminded him that on December 9, 2015, when she was in Islamabad for the Heart of Asia conference, a decision was made by then Prime Minister Nawaz Sharif that dialogue between India and Pakistan should be renewed and named it a "Comprehensive Bilateral Dialogue".
"The word 'bilateral' was used consciously to remove any confusion or doubt about the fact that the proposed talks would be between our two nations and only between our two nations, without any third-party present. And he must answer why that proposal withered, because Pakistan is responsible for the aborting that peace process," Swaraj said.
Sushma Swaraj asks China to help tag Masood Azhar as 'global terrorist' 
In her speech, Swaraj went on to take a dig at the international community too for first failing to recognise terrorism as a global threat and dismissing it as a "law and order" problem and also for continuing to quibble over the definition of terrorism.
"If we cannot agree to define our enemy, how can we fight together? If we continue to differentiate between good terrorists and bad terrorists, how can we fight together? If even the United Nations Security Council cannot agree on the listing of terrorists, how can we fight together?" she said.
Swaraj was apparently referring to China, a veto-wielding permanent member of the Security Council, which has repeatedly blocked India's move to put a ban on Jaish-e-Mohammed chief Masood Azhar under the Al-Qaeda Sanctions Committee of the Council. The JeM has already been in the banned list.
"I would like to request this august assembly to stop seeing this evil with self-defeating and indeed meaningless nuance. Evil is evil. Let us accept that terrorism is an existentialist danger to humankind. There is absolutely no justification for this barbaric violence," she said.
Swaraj called on the UN member states to display their new commitment by reaching agreement on the Comprehensive Convention on International Terrorism this year itself. 
Although India proposed a Comprehensive Convention on International Terrorism (CCIT) as early as in 1996, yet two decades later the United Nations has not been able to agree upon a definition of terrorism, she rued.
"We have been the oldest victims of this terrible and even traumatic terrorism. When we began articulating about this menace, many of the world's big powers dismissed this as a law and order issue. Now they know better. The question is: what do we do about it?" she asked.
"We must all introspect and ask ourselves whether our talk is anywhere close to the action we take. We all condemn this evil, and piously resolve to fight it in all our declaratory statements. The truth is that these have become rituals," she said.
"The fact is that when we are required to fight and destroy this enemy, the self-interest of some leads them towards duplicity," Swaraj said.
PM Modi, Rajnath Singh hail Sushma Swaraj for her UNGA speech
Prime Minister Narendra Modi hailed Sushma Swaraj for her speech at the UN General Assembly saying she delivered a strong message on the dangers of terrorism. 
Swaraj in her speech asked Pakistani leaders to introspect as to why India is recognised as a global IT superpower while the neighbour is infamous as the "pre-eminent export factory for terror". 
In a series of tweets, Modi said, "A strong message was given by Sushma Swaraj ji on the dangers of terrorism and why we have to unite and fight this menace." 
The prime minister said Swaraj was insightful in identifying global challenges and strongly reiterated India's commitment to create a better planet. 
"Incredible speech by EAM (external affairs minister) Sushma Swaraj at the UN! She has made India extremely proud at the world stage," he said. 
Home Minister Rajnath Singh also congratulated External Affairs Minister Sushma Swaraj for her "powerful" speech, saying she "exposed" Pakistan's duplicity on terrorism. 
"Her (Swaraj's) measured responses in spite of provocations speak volumes of her maturity and tenacity. She has exposed Pakistan's duplicity on terrorism," he said in a tweet. 
"Congratulations to Smt. @SushmaSwaraj on her powerful, measured and nuanced articulation of India's stand on the issue of terrorism at #UNGA (sic)," Singh said in another tweet.