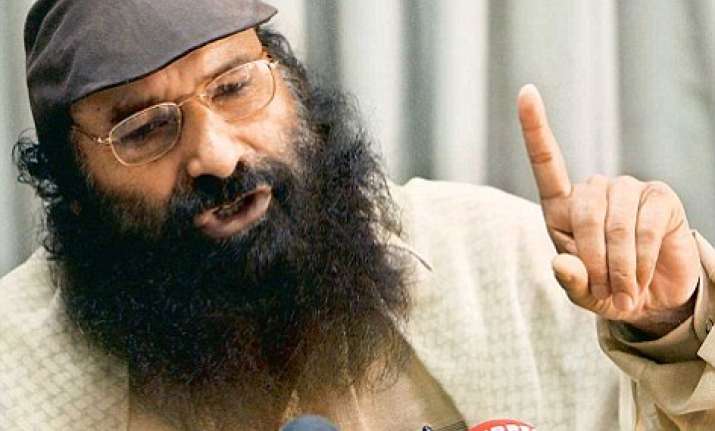 Days after being designated 'global terrorist' by the US, Syed Salahuddin has boasted to a Pakistani television channel that he and his outfit, Hizbul Mujahideen, have carried out terror attacks in India. 
In an interview to Pakistan's Geo News, Salahuddin admitted that his outfit gets funding from Pakistani government, adding that he has several supporters in Kashmir. 
During the interview, poster of Burhan Wani, the Hizbul commander who was gunned down in an enconter by the Indian security forces in Kashmir last year, was also placed near Salahuddin. 
Salahuddin also said that he had plans to carry out several other operations, but scenario changed after the 9/11 attacks. He also claimed that he can carry out terror attacks as he has enough support within India.  
This comes two days after it was reported that Salahuddin said at a Saturday rally in Muzaffarabad that his "fighters' attacks were on legitimate military targets as opposed to civilians", as was reported by Pakistani newspaper Nation.
On Saturday, Salahuddin had said that the 'idiotic' US decision designate him a global terrorist will not make any difference to the 'legitimate struggle for freedom of Jammu and Kashmir'.
Earlier, he received a warm welcome in the city and at many spots people showered rose petals on his vehicle. The Hizbul chief, in his traditional appearance, emerged out of the sunroof of his vehicle and waved to the crowd and made the victory sign.
Shockingly, the 'global terrorist', during his public rally, was being guarded by Pakistani troops, the video showed. 
At the presser, he termed the Donald Trump administration's move as 'idiotic' and taken to 'please and satisfy' Indian Prime Minister Narendra Modi 'without any reasoning and grounds'. He was designated as global terrorists hours ahead of a meeting between Modi and US President Donald Trump.
"We have slapped this idiotic step back on the face of both leaders to make the world understand that this foolishness can neither weaken our resolve, nor stop the freedom struggle and the target-oriented actions by the freedom fighters," he told the crowd.
"Wars are fought with courage and spirit that makes you use even a stone as an atomic bomb," he said, referring to the stone pelting by youths in Jammu and Kashmir.
A week ago, even as Prime Minister Narendra Modi was on a state visit to the US, its state department named Salahuddin, whose given name is Mohammad Yusuf Shah, a 'Specially Designated Global Terrorist'.
According to US legal provisions, individuals named'global terrorists' are those "who have committed, or pose a significant risk of committing, acts of terrorism that threaten the security of US nationals or the national security, foreign policy, or economy of the United States," according to a state department notification.
A day after Salahuddin was named 'global terrorist', Pakistan slammed the US.
"The designation of individuals supporting the Kashmiri right to self-determination as terrorists is completely unjustified," a ministry spokesperson said in a statement without naming Salahuddin.