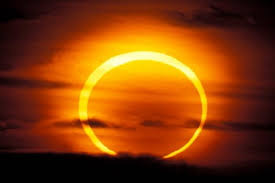 People in South Africa will be witness to the annular solar eclipse, referred to as a "ring of fire" in the skies today. 
The eclipse that began at 2:45 am EDT (12:15 pm IST) will reach its maximum limit after 3 hours and will clear the way by 8:00 am EDT (5: 30 pm IST). 
The moon will glide in between the sun and the earth. Unlike the regular total solar eclipse, an annular eclipse occurs when the moon does not totally block out the sun.
According to NASA, the eclipse will pass over the countries of Gabon, the Democratic Republic of the Congo, Tanzania and Mozambique. The longest eclipse will occur in Tanzania.
For people on the ground, this eclipse will appear as a rare ring in the sky spectacular showcasing the circular shadows.
This 'Ring of fire' will be an amazing sight that the people of that area must not miss.
Experts recommend that one should not look at the sun directly as the rays including U.V rays will be very harmful for the eyes. The event must be viewed only by building an eclipse viewer.
Even if today's eclipse is missed, there is nothing to worry about as the next view of 'Ring of Fire' is not that far. 
As per NASA report, the same kind of eclipse will be observed over southern America on 26 February 2017.