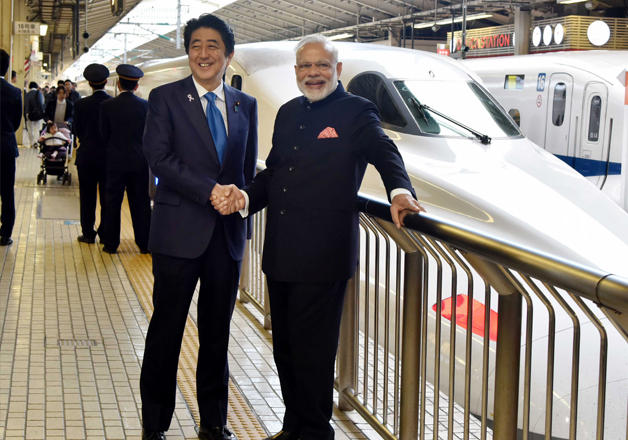 Prime Minister Narendra Modi along with his Japanese counterpart Shinzo Abe today travelled in Japan's famed high-speed Shinkansen bullet train, which is being introduced in India on the Mumbai-Ahmedabad stretch.
Modi and Abe travelled in the train, whose speed ranges from 240 kms per hour to 320 kms per hour, from Tokyo to Kobe, a city on Osaka Bay in Japan.
"On the way to Kobe with PM @AbeShinzo. We are on board the Shinkansen bullet train," Prime Minister Modi tweeted along with pictures of him in deep conversation with Abe.
Today is the last day of PM Modi's three-day visit to Japan.
PM Modi, who arrived here on Thursday, had first met Indian community members in Tokyo. On Friday, the second day of his second visit to the East Asian country in last two years, PM Modi called on Japanese Emperor Akihito and later attended the 11th India-Japan Annual Summit.
A unique friendship on a unique train journey. PM @narendramodi and PM @AbeShinzo inside the Shinkansen bullet train to Kobe pic.twitter.com/xYUbDIFhXE

— Raveesh Kumar (@MEAIndia) November 12, 2016
Simply Shinkansen! Scenes from inside the famed Japanese bullet train, with the two leaders deep in conversation pic.twitter.com/D9gQz73XJ4

— Raveesh Kumar (@MEAIndia) November 12, 2016
The construction of the high-speed train corridor between Mumbai and Ahmedabad will start in 2018 and the train service will be operational from 2023. The designing of the project will begin by the end of this year.
According to Abe, the ambitious project "symbolises a new dimension in the special relations" between the two countries and hoped that introduction of the rapid train network will spur further economic growth in India.
The high speed rail system 'Shinkansen' was introduced in Japan in 1964.
And a precision arrival, in true Japanese style! The Shinkansen pulls into Kobe at 1155 hrs, & in 45 seconds, leaders & delegation disembark pic.twitter.com/y9kIXrHIIW

— Raveesh Kumar (@MEAIndia) November 12, 2016
Earlier on Friday, India and Japan signed the civil nuclear agreement that will boost bilateral economic and security ties and facilitate US-based players to set up atomic plants in the country.
The deal would allow Japan to export nuclear technology to India, making it the first non-NPT signatory to have such a deal with Tokyo. It would also cement the bilateral economic and security ties as the two countries warm up to counter an assertive China.
A pic for posterity! PM @narendramodi and PM @AbeShinzo onboard the Shinkansen as another iconic Japanese landmark Mt. Fuji flashes by pic.twitter.com/d8taWB9Ijv

— Raveesh Kumar (@MEAIndia) November 12, 2016
There was political resistance in Japan - the only country to suffer atomic bombings during World War II - against a nuclear deal with India, particularly after the disaster at the Fukushima Nuclear Power Plant in 2011.
Japan is a major player in the nuclear energy market and an atomic deal with it will make it easier for US-based nuclear plant makers Westinghouse Electric Corporation and GE Energy Inc to set up atomic plants in India as both these conglomerates have Japanese investments.
Other nations who have signed civil nuclear deal with India include the US, Russia, South Korea, Mangolia, France, Namibia, Argentina, Canada, Kazakhstan and Australia.