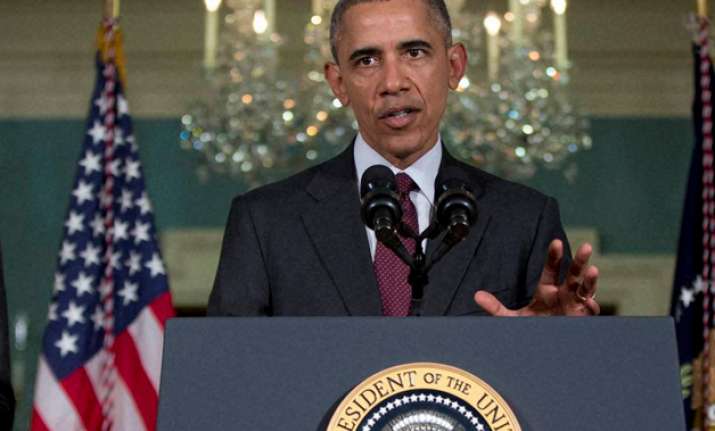 Washington: In a veiled attack on Republican presidential front-runner Donald Trump, President Barack Obama today strongly condemned the "vulgar and divisive" rhetoric aimed at women and minorities in the US polls campaign and warned that it is damaging America's image.
"I'm not the only one in this room who may be more than a little dismayed about what's happening on the campaign trail lately," Obama said in his remarks at the annual bipartisan St Patrick's Day gathering in Capitol Hill.
In a veiled reference to Trump, Obama condemned the "vulgar and divisive" rhetoric in the polls campaign and criticised the Republican leadership for keeping quite.
"We have heard vulgar and divisive rhetoric aimed at women and minorities -- at Americans who don't look like 'us', or pray like 'us' or vote like we do. We've seen misguided attempts to shut down that speech, however, offensive it may be. We live in a country where free speech is one of the most important rights that we hold," Obama said.
"In response to those attempts, we've seen actual violence, and we've heard silence from too many of our leaders," Obama said referring to the violence at Trump's rally in Chicago and the muted response from the Republican establishment.
Obama's remarks assume significance as they were made in the presence of top Republican leadership, including the Speaker of the US House of Representatives, Paul Ryan.
"Speaker Ryan, I appreciated the words on this topic that you shared with us this morning. But too often we've accepted this as somehow the new normal," said the US President, who in the past has stated that Trump is unlikely to be elected as the President of the United States.
Obama said he rejects any effort to spread fear, or encourage violence or to shut people down when they are trying to speak, or turn Americans against one another.
"The longer that we allow the political rhetoric of late to continue, and the longer that we tacitly accept it, we create a permission structure that allows the animosity in one corner of our politics to infect our broader society. And animosity breeds animosity," Obama warned.
Obama asserted that it is also about the American brand. "Who are we? How are we perceived around the world? There's a reason that America has always attracted the greatest talent from every corner of the globe. There's a reason that 'Made in America' means something. It's because we're creative, and dynamic, and diverse, and inclusive, and open," he said.
"Why would we want to see that brand tarnished? The world pays attention to what we say and what we do," he said.
"I think as a citizen who will still be leading this office, I will not support somebody who practices that kind of politics. And any leader worthy of our support will remind us that even in a country as big and diverse and as inclusive as ours, what we have in common is far bigger and more important than any of our differences," Obama stressed.