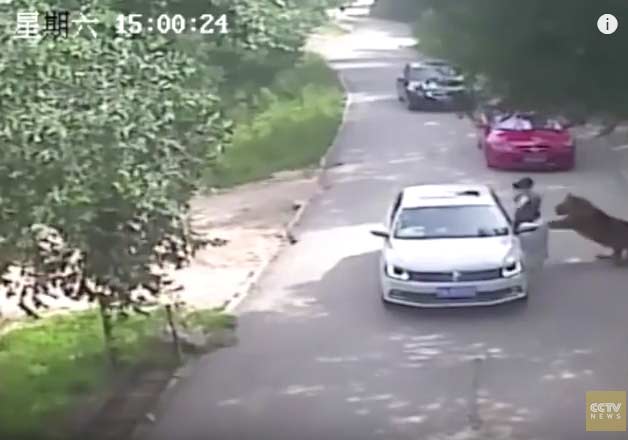 In a hair raising incident, tigers attacked a pair of women who got out of their car inside Beijing's Badaling Wildlife Park. One of the visitors was killed on the spot.
The attack took place at Beijing Badaling Wildlife World on Saturday.
The horrendous incident was partly captured on shocking CCTV footage.
The 13-second surveillance video broadcast by mainland media shows a young woman getting out of the front passenger seat, slams her door and stomps round to the driver's side, later who was confirmed to be her husband. A tiger suddenly appears from behind her and drags her off.
An older woman, believed to be her mother, and the driver then also got out and went to her rescue.
But the older woman was then attacked by a second tiger who dragged her to her death as park rangers frantically tried to intervene.
The younger woman remains in hospital with serious injuries but the mum could not be saved.
The wildlife park, which has since been ordered to close, allows visitors to drive their own cars through an open space where the animals roam free.
Visitors to the park are cautioned not to alight from their vehicles.