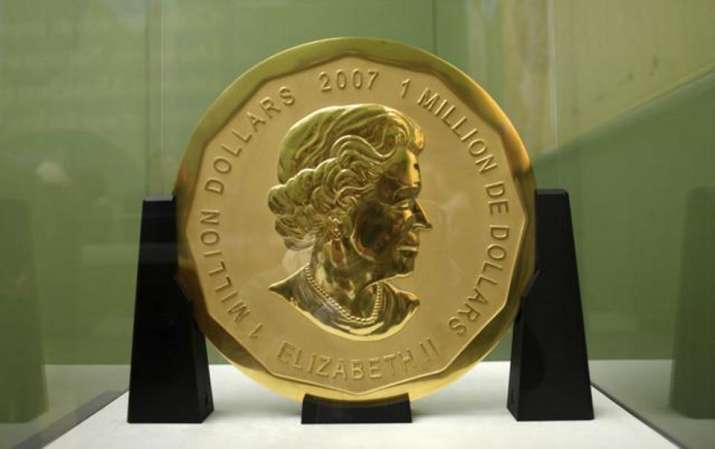 In an incident that bears a canny similarity to robberies portrayed in films in the bygone era, burglars in Berlin used a rope, a foldout ladder and a wheelbarrow to steal the world's second-largest gold coin, weighing around 100 kg, from a high security museum on Monday morning.
Police said at least two burglars broke into the Bode Museum early on Monday morning using a ladder to climb up to a window from elevated railway tracks running alongside the building.
Bearing the head of Queen Elizabeth II, the "Big Maple Leaf" coin is one of only five one-off, pure gold commemorative pieces issued by the Royal Canadian Mint in 2007. Weighing 100kg, with a diameter of 53cm and a thickness of 3cm.
The thieves grabbed the "Big Maple Leaf" coin, on loan to the museum's coin collection, loaded it onto the wheelbarrow, then carted it out of the building and along the tracks across the Spree river before descending into a park on a rope and fleeing in a getaway car.
Police say the three-centimeter (1.2-inch) thick coin, with a diameter of 53 centimeters (20.9 inches) and worth some $4.5 million (Rs 30 crore) for the gold alone, was likely damaged in the theft. 
Even though Angela Merkel's apartment lies only a stone's throw from where the thieves entered the museum, police said they had decided against interviewing the chancellor, her husband or their security guards since their view would have been obscured by a railway bridge.
While CCTV cameras inside the museum may have been disabled along with the building's alarm system, police said they were analysing footage from security cameras at nearby stations and municipal buildings.
Since December 2010, the Big Maple Leaf has been displayed in a bulletproof cabinet at the Bode Museum.