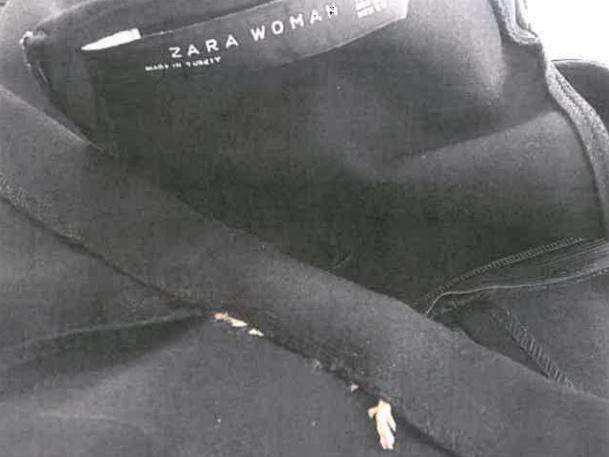 A woman in Manhattan has sued a top fashion retailer after she allegedly found a dead rodent sewn into her new dress she bought from a Zara clothing store.
Cailey Fiesel, 24, of Manhattan, has claimed that the outfit she bought from the fashion retailer Zara had a dead rodent sewn into the seam.
Woman says she found a rat sewn into her Zara dress https://t.co/QqksXvPnah pic.twitter.com/7BrsVksM4X

— Barrett Tryon (@btreports) November 16, 2016
Fiesel only made the disgusting discovery when the dress started stinking and she felt the animal's paw poking her in the leg, according to a new lawsuit.
"I saw the little leg that was coming out of the seam that I had touched, which was really horrifying. I froze -- I was paralysed with fear," Fiesel told the New York Post.
"I was in complete shock. My eyes saw that it was a mouse but my brain told myself it can't be," she said.
The Colgate University graduate had bought the black scoop-neck dress for $40 from a Zara location in Greenwich, Connecticut, in July.
At first, everything seemed fine. But when she finally wore the garment to work a few weeks later, she noticed a "disturbingly pungent odour" coming from it.
"Despite getting up from her desk and walking around, she was unable to escape the odour," according to her lawsuit, filed in the Manhattan Supreme Court on Monday.
"I felt something brushing up against my leg and thought it was a string from the seam of the dress," Fiesel said.
"When I went to pull at it, it didn't feel like a string. I then felt the hem of the dress and it felt like there was some sort of sensor. I turned up the seam of the dress and saw it was not a sensor and that it was a mouse," Fiesel said.
The shock changed to panic and Fiesel jumped out of her desk chair at her Manhattan office and ran to the bathroom. "I changed immediately. Thank god I had something to change into," Fiesel said.
Her suit states that she not only suffered emotional distress from the incident, but also developed a large rash that was diagnosed as a "rodent-born disease".
She has sued for unspecified damages, saying the retailer owed her a "duty of care" to manufacture dresses that were "free from defects, including rodent infestations".
A label on the rodent-bearing dress said it was made in Turkey. Fiesel's attorney Adam Deutsch has preserved the dress, with the embedded rodent, in a vacuum-sealed pouch to use as evidence at trial.
A spokesman for Zara USA said the company "is aware of the suit and we are investigating the matter further".
"Zara USA has stringent health and safety standards, and we are committed to ensuring that all of our products meet these rigorous requirements," he said.
(With inputs from PTI)