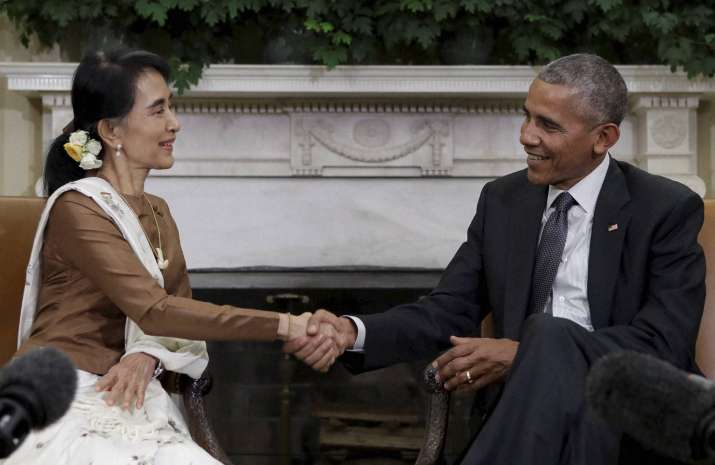 US President Barack Obama has moved to restore trade benefits to Myanmar, saying broader sanctions would soon be scrapped as he hosted the country's de facto leader Aung San Suu Kyi at the White House.
While addressing the US business community on Thursday, Suu Kyi called for US companies to bring responsible investment to the former pariah state, saying economic success would help convince people and the powerful military that democracy is the best way forward.
Suu Kyi, whose party won national elections last November, said that lifting sanctions entailed some political and economic risk, but added, "It is time now for our people to depend on themselves."
Many of the companies and individuals still subject to US sanctions are linked to the military, which retains major political and economic interests, despite the shift to civilian government. Human rights groups say the US should continue applying pressure on Myanmar to change. Massive illegal trade in goods including jade and timber continues, as does civil war with many ethnic minorities.
Suu Kyi said that economic development could help foster national reconciliation. She said the transport and energy sectors were suffering from decades of neglect, and support was needed to build the education and health systems and the skills of its people.
"Economic success is one of the ways in which can persuade everybody in our country, including the military, that democracy is the best way forward for our union. This is the best way forward for us to achieve unity and prosperity," she told a dinner hosted by the US Chamber of Commerce and the US-Asean Business Council — a group that supports American business ties with Southeast Asia.
Tables at the function at an upscale Washington hotel went for up to $25,000.
Obama aide Ben Rhodes said that the "national emergency" with respect to Myanmar that authorises the sanctions would be terminated in the "coming days."
Myanmar, also known as Burma, is a nation of more than 50 million and rich in natural resources. Before a military coup in 1962 it was among the region's stronger economies. Today it's among Asia's least developed and poorest countries, with more than a quarter of the population living in poverty.
Both Myanmar and US businesses have welcomed Obama's decision, the culmination of a five-year engagement and gradual easing of restrictions against a former adversary. Broad sanctions on trade and investment ended in 2012, but US-Myanmar goods trade totaled just $227 million in 2015, and US companies account for less than 1 percent of total foreign investment.
Suu Kyi said she wanted US companies to bring investment "best practices" and urged them to report any signs of corruption.
"When you are trying to invest in Burma, please don't think you have to go with a suitcase bursting with dollar bills," she said.
With AP Inputs