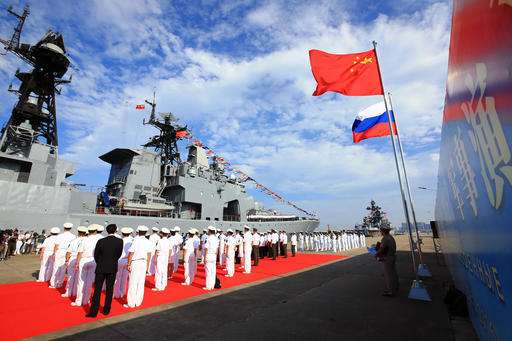 Flaunting  the combined military power of China and Russia, the state-run Chinese media today obliquely warned the United States to think twice before seeking dominance in West Pacific region.
Referring to the ongoing military drills between Russian and Chinese navies, an editorial in the state-run 'Global Times' said that China and Russia together are formidable and unbeatable and therefore, any third country seeking dominance in the West Pacific should reassess its strategy.
"Countries such as the US and Japan have been extremely sensitive about the drills. Let them be. The US and Japan have burnt their own fingers," the editorial said.

 

The Joint Sea-2016 drill between China and Russia started on Monday in the South China Sea which features naval surface ships, submarines, fixed-wing aircraft, ship-borne helicopters, marine corps and amphibious armoured equipment from both navies.
The two navies are also practicing "island seizing "activities, including anti-submarine operations, featuring live fire drills and island defence tactics.
"As long as a third country has no ulterior motives, it has no reason to worry about the Sino-Russian drills. If some country is to seek global hegemony and dominate the West Pacific, it should think twice, as China or Russia is hard to deal with individually, let alone together," the editorial warned.
Lashing out at the western media for its double standard in looking at Sino-Russian military drills, the editorial pointed out that the US often sends warships to different parts of the world to exercise the so-called freedom of navigation.
Warning that uncalled for pressure from US on China and Russia will only strengthen their mutual cooperation, the editorial said, "Both China and Russia are nuclear powers. If the two cannot safeguard their own security or maintain their strategic space for survival and development, the 21st century will be filled with darkness and horror."