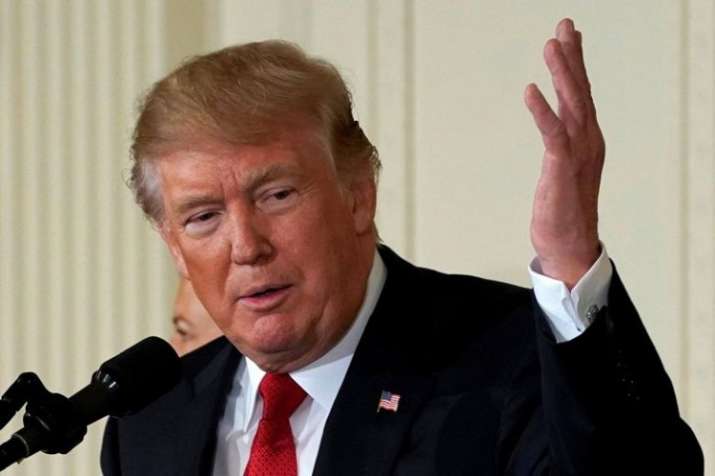 US President Donald Trump on Monday reimposed sanctions on Iran, which were lifted as part of the 2015 Iranian nuclear deal. However, he stated that the United States is open to forge new nuclear deal with Tehran. 
Signing the executive order, President Trump said that the US policy is to levy 'maximum economic pressure' on the country.
In a statement, Trump said the 2015 international accord to freeze Iran's nuclear program in return for lifting sanctions was a "horrible, one-sided deal" and said it left the Iranian government flush with cash to use to fuel conflict in the Middle East.
"We urge all nations to take such steps to make clear that the Iranian regime faces a choice: either change its threatening, destabilizing behavior and reintegrate with the global economy, or continue down a path of economic isolation," Trump said.
Trump warned that those who don't wind down their economic ties to Iranian "risk severe consequences" under the reimposed sanctions.
A first phase of US sanctions against Iran goes into effect overnight, targeting Iran's access to US banknotes and key industries including cars and carpets.
The second phase, which takes effect November 5 and will block Iran's oil sales, is due to cause more damage, though several countries including China, India and Turkey have indicated they are not willing to entirely cut their Iranian energy purchases.
Secretary of State Mike Pompeo said that the renewed US sanctions on Iran will be rigorously enforced and remain in place until the Iranian government radically changes course.
Speaking to reporters en route from a three-nation trip to Southeast Asia, Pompeo said Monday's reimposition of some sanctions is an important pillar in US policy toward Iran. He said the Trump administration is open to looking beyond sanctions but that would "require enormous change" from Tehran.
"We're hopeful that we can find a way to move forward but it's going to require enormous change on the part of the Iranian regime," he said on Sunday. "They've got to behave like a normal country. That's the ask. It's pretty simple", he added.
Meanwhile European foreign ministers lashed out the United States and said thay they "deeply regret" the reimposition of US sanctions on Iran.
A statement by European Union foreign policy chief Federica Mogherini and foreign ministers of France, Germany and the United Kingdom insisted that the 2015 Iran nuclear deal "is working and delivering on its goal" of limiting Iran's nuclear program.
The ministers said the Iran deal is "crucial for the security of Europe, the region and the entire world."
A senior administration official said the United States is "not particularly concerned" by EU efforts to protect European firms from the reimposition of sanctions.
The official was not authorized to discuss the matter by name and spoke Monday on condition of anonymity.
The European Union issued a "blocking statute" Monday to protect European businesses from the impact of the sanctions.
The new order has affected the Iran's currency, which has lost around half its value since Trump's announcement. 
It has added to tensions inside Iran, which has seen days of protests and strikes in multiple towns and cities over water shortages, high prices and wider anger at the political system.
Hitting back, Iranian President Hassan Rouhani struck a hard line demanding compensation for decades of American "intervention" in the Islamic Republic.
While saying he had "no preconditions" for talks, Rouhani in a live television interview maintained that Iran can rely on China and Russia to help its oil and banking sectors as the U.S. ramps up sanctions in the coming months.
The U.S. resumed sanctions targeting Iran's automotive sector as well as gold and other key metals on Monday.
"If someone has knife in the hand and seeks talks, he should first put the knife in his pocket," Rouhani said.
The uncertainty caused by the re-imposition of American sanctions has proven devastating for the Iranian economy, already weakened by decades of sanctions. Iran's rial now trades over double its government-set rate to the U.S. dollar. Sporadic protests have broken out across the country, something that Rouhani again blamed Monday on the US.
"The Americans thought that they can add to our social and economic problems through increasing pressure," he said.