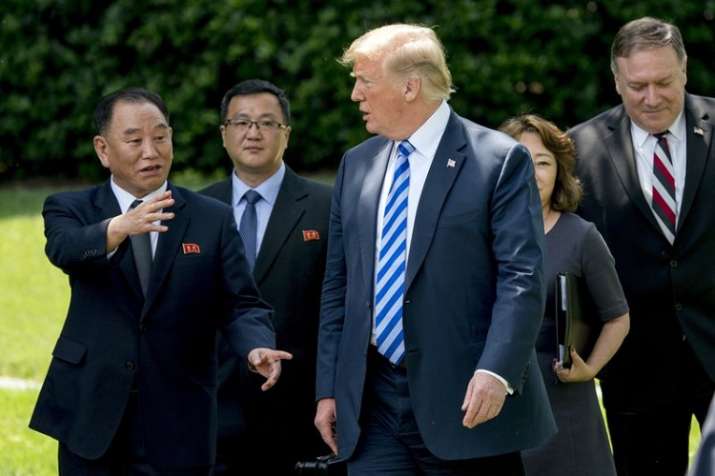 Ending days of speculation, US President Donald Trump on Friday said that he will meet North Korean supremo Kim Jong Un as originally scheduled on June 12 for the much anticipated US-North Korea summit in Singapore. The decision comes after his meeting with top North Korean official Kim Yong Chol at the Oval Office.
Speaking after more than an hour of talks with Kim Yong Chol in the Oval Office, Trump told reporters that denuclearisation and a formal end to the decades-old Korean war would be on the table in Singapore.
However, the US President warned that he did not expect to immediately sign a deal to bring a halt to the North's nuclear program."I never said it goes in one meeting. I think it's going to be a process, but the relationships are building and that's very positive", said Trump.
Trump said they had discussed formally ending the Korean War, which has been largely frozen since an armistice ended hostilities, but not the underlying conflict, in 1953. Since then, there have been occasional clashes on the divided peninsula.
"We talked about it. We talked about ending the war," Trump said.
Kim Yong Chol also handed over Trump a letter from Kim. Trump initially told reporters the missive was "very interesting." But he later acknowledged he hadn't read it yet.
The Oval Office talks came only a week after Trump threatened to cancel the summit, a move the White House officials attributed to 'a trail of broken promises', only to revive preparations shortly afterwards.
Trump said that, after Friday's talks, the parties are "totally over that and now we're going to deal and we're going to really start a process." 
Washington is determined that Pyongyang should agree to what US officials call the "complete, verifiable and irreversible" end of North Korea's nuclear weapons and intercontinental missile programs.
Kim says that he is committed to "denuclearisation" in some form, but he is expected to demand security guarantees, one of which could be a formal end to the conflict with the US and South Korea.
The historic meeting between Trump and Kim Jong Un would be the first between sitting US and North Korean leaders.