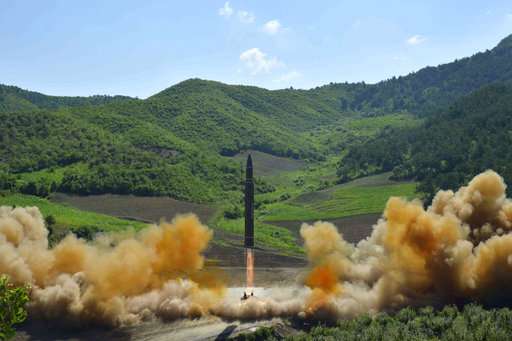 True to his image, North Korean leader Kim Jong-un today used foul language to taunt the US and said that his country's intercontinental ballistic missile test was a "gift" to "American bastards" on their independence day.
According to The Independent, the Korean Central News Agency (KCNA) quoted Kim Jong-Un, who personally oversaw the test, as saying that "American bastards would be not very happy with this gift sent on the July 4 anniversary".
Meanwhile, news agency AFP quoted diplomats as saying that the UN Security Council will hold an emergency meeting today to discuss situation arising out of North Korea's  intercontinental ballistic missile (ICBM) test.
Reacting to claims made by North Korea that the intercontinental ballistic missile (ICBM)  it tested on Tuesday is capable of carrying a "large, heavy nuclear warhead" that can survive re-entry into the Earth's atmosphere, US Secretary of State Rex Tillerson said that  it was  a "new escalation of the threat" to the United States.
The United States on Tuesday confirmed that North Korea's latest missile launch was indeed an intercontinental ballistic missile, as Pyongyang had boasted and the US and South Korea had feared.
According to experts, the device, launched yesterday in a watershed moment for Pyongyang's weapons ambitions, was capable of reaching Alaska.
In a show of force directly responding to North Korea's provocation, US and South Korean soldiers fired "deep strike" precision missiles into South Korean territorial waters on Tuesday, US military officials in Seoul said. The missile firings demonstrated US-South Korean solidarity, the US Eighth Army said in a statement.
At the request of the US, Japan and South Korea, the United Nations Security Council was to hold an emergency session on Wednesday afternoon. Tillerson said that was part of a US response that would include "stronger measures to hold the DPRK accountable," using an acronym for the isolated nation's formal name, the Democratic People's Republic of Korea.
"Global action is required to stop a global threat," Tillerson said. "Any country that hosts North Korean guest workers, provides any economic or military benefits, or fails to fully implement UN Security Council resolutions is aiding and abetting a dangerous regime."
He said the US "will never accept a nuclear-armed North Korea."
Tillerson's statement, issued Tuesday evening as most Americans were celebrating the Fourth of July holiday, notably did not mention China, whose help the Trump administration has been aggressively seeking to press Pyongyang over its nuclear weapons program. In recent days, as the North has continued to test missiles in defiance of global pressure, President Donald Trump has started voicing doubt that Beijing is up to the task. His administration has taken a number of steps against China's interests that have suggested its patience has run short.
Tillerson's comments were the first public confirmation by the United States that the missile was indeed an ICBM, constituting a major technological advancement for the North and its most successful missile test yet.
The prime danger from the US viewpoint is the prospect of North Korea pairing a nuclear warhead with an ICBM. The latest US intelligence assessment is that the North probably does not yet have that capability — putting a small-enough nuclear warhead atop an ICBM.
Initial US military assessments had been that it was an intermediate-range missile. NORAD, or the North American Aerospace Defense Command, said the missile did not pose a threat to North America.
Trump, in his initial response to the launch on Monday evening, urged China on Twitter to "put a heavy move on North Korea and end this nonsense once and for all!" But he also said it was "hard to believe" that South Korea and Japan, the two US treaty allies most at risk from North Korea, would "put up with this much longer."
The US mission to the United Nations said that US Ambassador Nikki Haley had requested that the Security Council meet urgently along with the U.N. envoys from Japan and South Korea. The 3 p.m. meeting Wednesday was to be held "in the open chamber," rather than behind closed doors.
Pentagon spokeswoman Dana W. White said the U.S.-South Korea missile exercise was meant to show "our precision fire capability.
"We remain prepared to defend ourselves and our allies and to use the full range of capabilities at our disposal against the growing threat from North Korea," she said in a statement. "The United States seeks only the peaceful denuclearization of the Korean Peninsula. Our commitment to the defense of our allies, the Republic of Korea and Japan, in the face of these threats, remains ironclad."
Since he entered the White House, Trump has talked about confronting Pyongyang and pushing China to increase pressure on the North, but neither strategy has produced fast results. The White House has been threatening to move forward on its own, though administration officials have not settled on next steps.
Patrick Cronin, an Asia expert with the Center for a New American Security, said Trump was probably "coming to the point of no return" with North Korea, adding that the upshot could be diplomatic overtures or military action.
"We either go to the diplomatic table with Kim Jong Un or we do take some course of action," Cronin said. "In all probability we do both."
Trump spoke with Chinese President Xi Jinping and Japanese Prime Minister Shinzo Abe on Monday, discussing North Korea and its nuclear program with both leaders. He will meet them both this week at the Group of 20 meeting in Germany, as well as have his first meeting with Russian President Vladimir Putin.
Trump and Xi emerged from their first meeting — in April at the US president's Florida estate — seemingly as fast friends. But China has long resisted intensifying economic pressure on neighboring North Korea, in part out of fear of the instability that could mount on its doorstep, and Trump has not found a way to break through Beijing's old habits.
Trump has expressed frustration recently with North Korea's nuclear ambitions, which have become one of his most vexing international problems. During a joint statement in the Rose Garden last week with South Korean President Moon Jae-in, Trump said the "the era of strategic patience with the North Korean regime has failed."
The president added that he wants "peace, stability and prosperity" for the region, but warned the United States will "always" defend itself and its allies.
(With agency inputs)