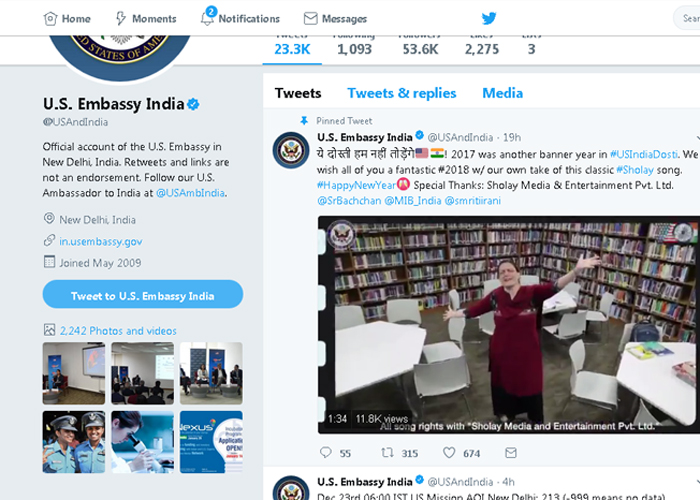 A day after India voted against US president Donald Trump's move on Jerusalem, US Embassy in India has released a video on India-US relationship based on a popular song from the Bollywood movie Sholay.
In this 2-minute long video, US embassy employees can be seen dancing on "Yeh Dosti Hum Nahi Todenge" song.
The video that has garnered more than 9000 views in the past 18 hours has been tweeted under the hashtag "USIndiaDosti".
"2017 was another banner year in #USIndiaDosti. We wish all of you a fantastic #2018 w/ our own take of this classic #Sholay song. #HappyNewYear Special Thanks: Sholay Media & Entertainment Pvt. Ltd", the message on the video tweeted by US Embassy in India said.
Even actor Amitabh Bachchan and Information and Broadcasting Minister Smriti Irani have been tagged in this video.
This is not for the first time when US has appreciated friendship with India. Earlier too, the US president was seen praising PM Narendra Modi. "It's great to have Prime Minister Modi here. We've had him at the White House, and he's become a friend of ours and a great gentleman doing a fantastic job in bringing around lots of factions in India -- bringing them all together," Trump had said according to the transcript released by the White House.
Sholay movie depicts strong bond of friendship between characters Jai and Veeru which were played by Amitabh Bachchan and Dharmendra respectively in the famous 1975 flick.