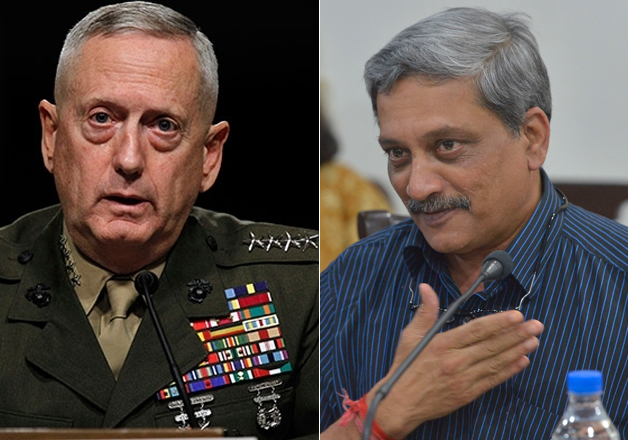 US Defence Secretary James Mattis on Wednesday called his Indian counterpart Manohar Parrikar and agreed to sustain the momentum on key bilateral defence efforts.
This was the first conversation between the two leaders after Mattis was sworn in as the Defense Secretary of the US President Donald Trump last month. 
"In their first conversation, Secretary Mattis committed to build upon the tremendous progress in bilateral defense cooperation made in recent years, underscoring the strategic importance of the US-India relationship and India's role in advancing global peace and security," the Pentagon Press Secretary Capt Jeff Davis said yesterday. 
"Secretary Mattis and Minister Parrikar affirmed their commitment to sustain the momentum on key bilateral defense efforts to include the defense technology and trade initiative," Davis said after the phone call between the two leaders which took place yesterday.
Bilateral defence cooperation between India and the US have made tremendous progress after change in New Delhi leadership in 2014. 
The new Donald Trump administration has yet to say anything concrete about the Indo-US defence relationship. But there are reasons to be positive. The new President has spoken of India in only positive terms. The erstwhile Obama administration had institutionalise with India in terms of defence cooperation. 
Before demitting the office, former Defence secretary Ashton Carter had said that India-US defence relationship is on the right path and the two nations are discussing ways to develop this partnership through technology sharing, co-production.
In various capacities, Carter, over the years and especially in the last few years, was closely involved in building defence relationship between the two largest democracies of the world. He had given great impetus to the ties between the two sides.
Last summer, the US had declared India as a major defence partner. 
With PTI Inputs