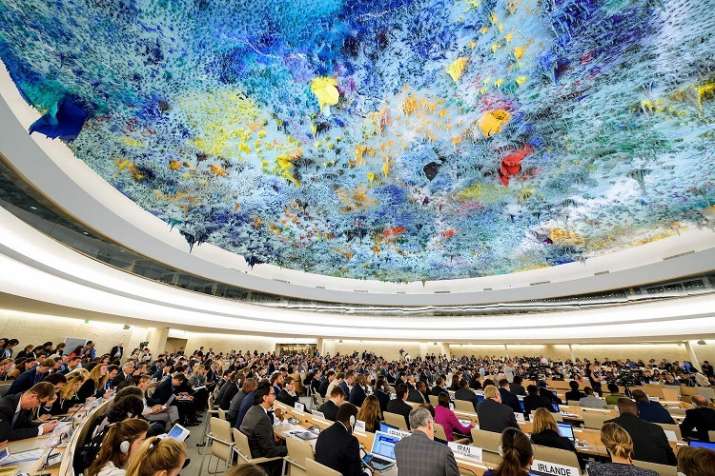 The United States is expected to pull out from the United Nations Human Rights Council on Tuesday in protest against what it perceives as a long-standing bias against Israel and a willingness to allow notorious human rights abusers as members.
Mike Pompeo, the Secretary of State, and Nikki Haley, US ambassador to the UN, will address the Geneva-based organisation on Tuesday.
United States' disagreement with the UN body is not a new thing. 
George W. Bush decided not to join the organisation, which was formed during his presidency. Barack Obama signed the US up in 2009, in a bid to show that human rights were a priority for the US, and succeeded in reducing the number of votes about Israel.
If the US does leave the group, it would be the first time that a sitting member would volunteer to step aside. Libya was suspended in 2011 after a government crackdown on unarmed protesters.
Haley announced a year ago that Washington was reviewing its membership of the human rights council, and called for reform and elimination of a "chronic anti-Israel bias."
Speaking in Geneva, she denounced the council as a "forum for politics, hypocrisy and evasion" and accused member countries such as Venezuela, Cuba, China, Burundi and Saudi Arabia of failing to fulfill their duties to "uphold the highest standards" of human rights.
The council's current membership includes 14 countries that are ranked as "not free" by Freedom House: Afghanistan, Angola, Burundi, China, Cuba, Congo, Egypt, Ethiopia, Iraq, Qatar, Rwanda, Saudi Arabia, United Arab Emirates and Venezuela.
Mrs Haley said at the time that the United States did not want to leave the council, but would do so if it did not make changes.
The body, set up in 2006, has a permanent standing agenda item - Agenda Item 7 - on suspected violations committed by Israel in the occupied Palestinian territories that Washington wants removed.
The council last month voted to investigate killings in Gaza and accused Israel of excessive use of force. The United States and Australia cast the only "no" votes. Israel's ambassador in Geneva, Aviva Raz Shechter, castigated the council for "spreading lies against Israel."
Since 2006, the council has passed more than 70 resolutions critical of Israel - 10 times as often as it has criticised Iran.