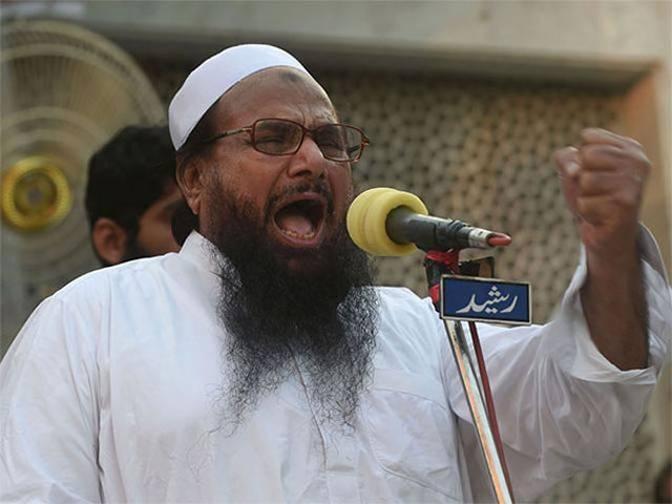 Emboldened by the support he received from Pakistani Prime Minister Abbasi, UN-designated terrorist and 26/11 Mumbai attacks mastermind Hafiz Saeed today claimed that he was the 'biggest advocate of humanity' as well as a 'messenger of peace'.
Interestingly, Saeed, the Jammat-ud-Dawa (JuD) chief who conceived and executed many terror operations against India, claimed that he will launch a campaign against terrorism in Pakistan besides waging a war against suicide bombers.
"JuD is against all kinds of terrorism, torture and killings of Muslims…JuD is also against continuing suicide bombing in Pakistan," Hafiz Saeed said.
For a change, the JuD chief, who always talks of waging war in Kashmir, said that the authority of acting against the enemies rested only with the Pakistan government adding his organisation works in the interest of humanity only.  
Earlier on Tuesday, referring to 26/11 Mumbai terror attacks mastermind Hafiz Saeed as 'sahib' (sir), Pakistan's PM Shahid Khaqan Abbasi said that there is no case against the former in the country, so no action can be taken against him. 
"The court, a three-judge bench, has released him (Saeed) saying there are no charges against him, the country has a law you know," he said.
Saeed is a major irritant in the already strained relationship between India and Pakistan. He runs the Lahore-based JuD which he claims to be running for humanitarian charity. The organisation has been blacklisted by the US, which has described it as a foreign terrorist organisation.
Saeed even carries a bounty of USD 10 million announced by the US for his role in terror activities. 
His group, JuD is believed to be the front organisation for the LeT which carried out the 2008 Mumbai terror attack in which 166 people were killed.