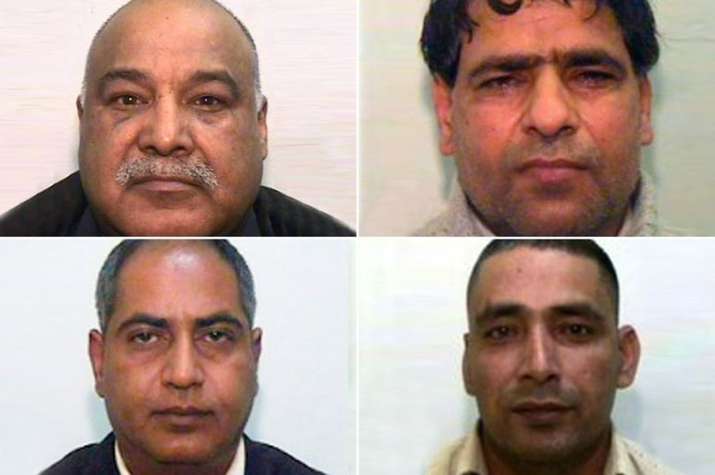 Four men, all of Pakistani origin and convicted of grooming girls for sex in a case that led to racial tensions in Britain, are facing deportation to their country of origin i.e. Pakistan, after a judge upheld a government decision on Thursday to strip them of British citizenship. 
The four men facing deportation are - Shabir Ahmed (the ringleader), Adil Khan, Qari Abdul Rauf and Abdul Aziz Ahmed. 
The ruling by an immigration tribunal clears the way for all these four men, who acquired British citizenship by naturalisation,  to be removed from Britain. 
They were among nine men of Pakistani and Afghan descent convicted of luring girls as young as 13 into sexual encounters using alcohol and drugs. They were based in Rochdale, in northern England.
Khan, Rauf and Aziz were convicted on conspiracy and trafficking for sexual exploitation charges. Aziz was not convicted of having sexual intercourse with any child.
The judge at the hearing in the upper tribunal of the Immigration and Asylum Chamber, Justice McClosky, described their crimes as "shocking, brutal and repulsive".
His decision rejected claims concerning human rights laws and a complaint of "disproportionate interference" with their rights.
The case centres on a decision by Prime Minister Theresa May, when she was home secretary, to strip the men's citizenship "for the public good".
The five victims of the gang who gave evidence in the 2012 trial were all white, and spoke of being raped, assaulted and traded for sex, being passed from man to man, and sometimes being too drunk to stop the abuses.
The men, ranging in age from 22 to 59, used various defences, including claiming the girls were prostitutes.
Rochdale MP Simon Dan¬czuk said the four men who appeared at the tribunal on Thursday should be dep¬or¬ted "as soon as possible" saying "foreign-born criminals should not be able to hide behind human rights laws to avoid deportation".
(With AP inputs)