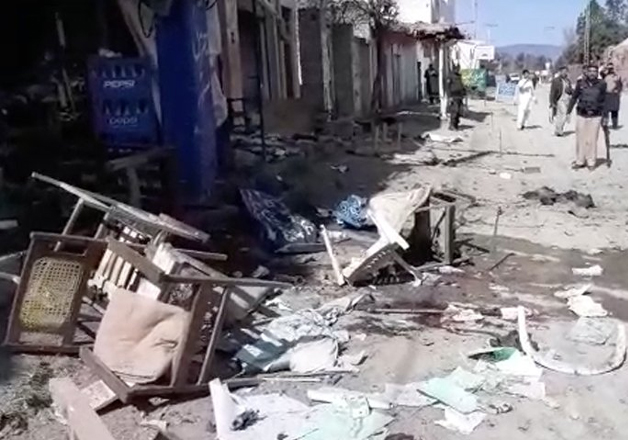 At least six persons were killed and 14 injured in a suicide blast and firing by terrorists outside a court in Pakistan's Khyber Pakhtunkhwa province today. 
According to police, security forces killed three suicide attackers outside the court in Khyber Pakhtunkhwa's Charsadda district. The three attackers attempted to enter the court premises in Tangi town through the main gate. They opened fire and threw grenades, prompting retaliatory fire by security forces deployed there. 
One bomber was killed in the firing at the gate and the second was killed as he entered the court. The third bomber died when he detonated his explosives, officials said. 
Such terrorist attack was expected in #Charsadda as it is located near border: @SirajOfficial
Watch Live Updates: https://t.co/bxIZLEVZps pic.twitter.com/4qLxlmiYcc

— Dunya News (@DunyaNews) February 21, 2017
According to DPO Charsadda Sohail Khalid, three suicide bombers tried to enter the court premises, but security forces shot them dead.
"One suicide bomber blew himself at the gate of the local court. All three terrorists have been killed. As per information, 3-4 people have been injured in the attack," the DPO said.
Deputy Commissioner of Charsadda said judges and lawyers were safe. He said due to tight security the bombers could not enter the court, but had they been successful in entering the premises it "would have been a catastrophe". A search and rescue operation was underway, he added. 
As soon as authorities learnt about the incident, they rushed to the spot and cordoned off the area. An emergency has been declared in Charsadda hospitals. 
Charsadda is almost 40 minutes away from Khyber Pakhtunkhwa's capital Peshawar.
The province has been a target of terror attacks for nearly a decade.
The incident comes days after an ISIS suicide blast targeting a Sufi shrine in Sindh province left at least 70 dead. 
In the last 10 days, over 100 people lost their lives in terror attacks in different parts of the country.