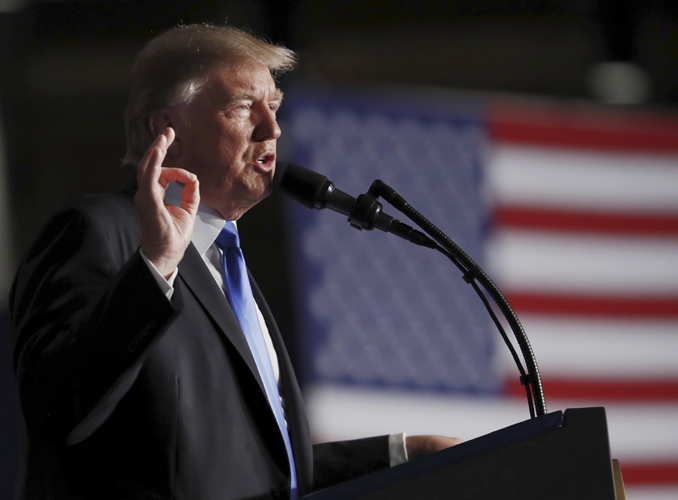 US President Donald Trump on Monday warned Pakistan of consequences if it continues to provide safe havens to terror groups as he unveiled a new Afghanistan strategy. Trump said the American troops face "immense security threats" in Afghanistan and the broader region as there are 20 US-designated foreign terrorist organizations active in Afghanistan and Pakistan.
Outlining his administration's strategy to the war in Afghanistan, Trump said a pillar of that strategy is a change in the US approach to Pakistan.
"I concluded that the security threats we face in Afghanistan and the broader region are immense. Today, 20 U.S.-designated foreign terrorist organizations are active in Afghanistan and Pakistan, the highest concentration in any region anywhere in the world," he said in a prime-time televised address to the nation.
He said Pakistan often gives sanctuary to "agents of chaos, violence and terror." 
Also Read: Trump warns Pakistan against offering safe havens to terrorists, seeks India's greater role in Afghanistan
"For its part, Pakistan often gives safe haven to agents of chaos, violence and terror. The threat is worse because Pakistan and India are two nuclear-armed states whose tense relations threaten to spiral into conflict. And that could happen," Trump said in his address. 
"In Afghanistan and Pakistan, America's interests are clear. We must stop the resurgence of safe havens that enable terrorists to threaten America. And we must prevent nuclear weapons and materials from coming into the hands of terrorists and being used against us, or anywhere in the world, for that matter," he added. 
He said the U.S. "can no longer be silent" about terrorist safe havens in Pakistan.
"The next pillar of our new strategy is to change the approach in how to deal with Pakistan. We can no longer be silent about Pakistan's safe havens for terrorist organizations, the Taliban and other groups that pose a threat to the region and beyond," the President said. 
In an apparent warning to Pakistan, he said, "Pakistan has much to gain from partnering with our effort in Afghanistan. It has much to lose by continuing to harbour criminals and terrorists."
Also Read: Also Read: Won't be silent on Pakistan's safe havens to terrorist groups, says Donald Trump
He, however recognised Pakistan as a "valued partner" and said the people of the country have "suffered greatly" from terrorism. "In the past, Pakistan has been a valued partner. Our militaries have worked together against common enemies. The Pakistani people have suffered greatly from terrorism and extremism. We recognize those contributions and those sacrifices."
Noting that the US gives Pakistan billions of dollars, Trump said it will change if Islamabad continues its support to terrorists. 
"But Pakistan has also sheltered the same organizations that try every single day to kill our people. We have been paying Pakistan billions and billions of dollars at the same time they are housing the very terrorists that we are fighting.
"But that will have to change. And that will change immediately. No partnership can survive a country's harbouring of militants and terrorists who target U.S. service members and officials. It is time for Pakistan to demonstrate its commitment to civilization, order and to peace," he said. 
Trump also sought a greater role for India to bring peace in Afghanistan.  
"We appreciate India's important contributions to stability in Afghanistan, but India makes billions of dollars in trade with the United States, and we want them to help us more with Afghanistan, especially in the area of economic assistance and development," Trump said.
Both India and Afghanistan have often accused Pakistan of providing safe havens and sometimes even sponsoring terror groups that carry out attacks in the two countries. 
The US has also criticised Pakistan's tolerance of Taliban militants who launch attacks in Afghanistan but the criticism has not been very vocal.  During the Obama administration, restrictions were imposed on military aid to Islamabad because of those concerns.