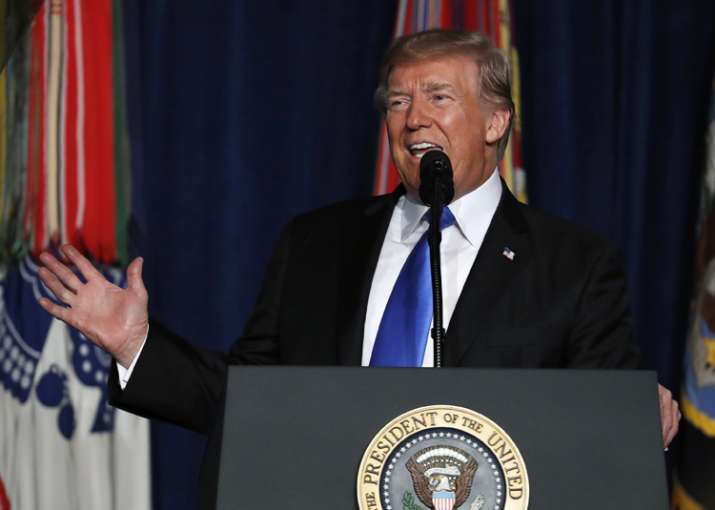 Unveiling his new Afghan policy, US President Donald Trump today sought an enhanced role for India to bring peace in the war-torn country. As he laid out his South Asia policy in a first prime-time televised address to the nation, Trump said a "strategic partnership with India" is a critical part of US's strategy in the region. 
"Another critical part of the South Asia strategy for America is to further develop its strategic partnership with India, the world's largest democracy and a key security and economic partner of the United States," Trump said in his address. 
The President said he appreciates "important contributions to stability in Afghanistan" but wants New Delhi to help more in the violence-torn country. 
Also Read: Trump announces new Afghanistan policy: Full speech
"We appreciate India's important contributions to stability in Afghanistan, but India makes billions of dollars in trade with the United States, and we want them to help us more with Afghanistan, especially in the area of economic assistance and development. We are committed to pursuing our shared objectives for peace and security in South Asia and the broader Indo-Pacific region," he said. 
In what was a major win for India, Trump chided Pakistan for providing safe havens to terrorist groups and highlighted that this could "spiral into conflict" between two nuclear-armed states.
"For its part, Pakistan often gives safe haven to agents of chaos, violence and terror. The threat is worse because Pakistan and India are two nuclear-armed states whose tense relations threaten to spiral into conflict. And that could happen," Trump said in his 26-minute speech. 
Also Read: 'You have much to lose by harbouring terrorists': Trump warns Pakistan as he unveils new Afghan policy
He said there are 20 U.S.-designated active foreign terrorist organisations in Afghanistan and Pakistan, the highest concentration in any region anywhere in the world.
"We can no longer be silent about Pakistan's safe havens for terrorist organisations," he said.