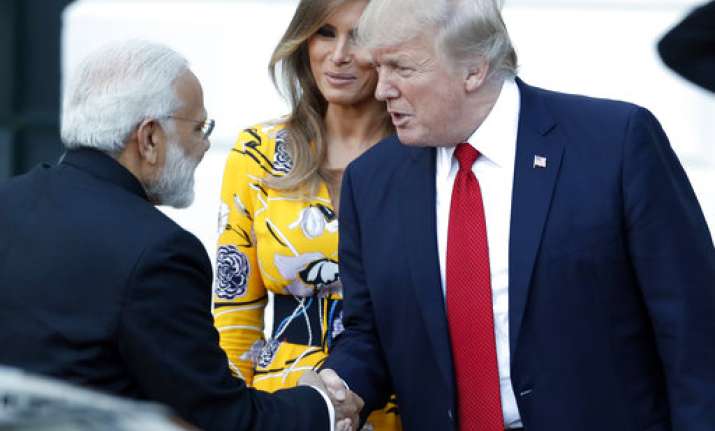 US Energy Secretary Rick Perry on Tuesday said that the first-ever meeting between Prime Minister Narendra Modi and President Donald Trump sent out a clear message that the Indo-US ties are going to be "substantially closer".
"There was a picture yesterday that I happened to see, that I thought was very reflective. And it was of these two individuals (Trump and Modi) embracing each other. I think that was a clear message around the world that the United States and India are going to be substantially closer," Perry told reporters at a White House news conference.
Energy is going to play a "very, very important" role in that, said Perry, who a day earlier attended the White House dinner hosted by Trump in honour of Modi.
The camaraderie between Modi and Trump was on full display as the two leaders heaped praise on each other, voiced appreciation for each others leadership and embraced more than once at the White House.
The two leaders underlined the close ties between their countries, with Trump saying India has a "true friend" in the White House.
Talking about the working dinner, the first for a foreign dignitary at the White House under the current administration, Perry said in the energy sector LNG (liquefied natural gas), clean coal and nuclear energy cooperation was discussed.
"Last night at dinner, we talked about the three areas of which there will be great back-and-forth cooperation; deal- making, if you will. One of those is in LNG. The other side of that is in clean coal. Thirdly is on the nuclear side," Perry said.
"So there is great opportunity for India and the United States to become even stronger allies, stronger partners, energy being the glue that will hold that partnership together for a long, long time," he said in response to a question.
The State Department described Modis visit as successful.
"The Indian Prime Minister Modi departed Washington last night after a successful trip to Washington. He went to the White House at the invitation of President Trump," State Department spokesperson Heather Nauert said and quoted President Trump who said yesterday, "The relationship between India and the United State has never been stronger and has never been better."
Secretary of State Rex Tillerson had also met Modi on Monday.
"The two talked about ways to further strengthen our cooperation, particularly in the areas of counter-terrorism, defence, and also trade," she said.
"The Secretary reaffirmed the administrations support for Indias as the leading security provider in the Indo- Pacific region. He also noted that he looks forward to working even more closely with India on shared regional and global priorities, including North Korea," Heather said.
(With PTI inputs)