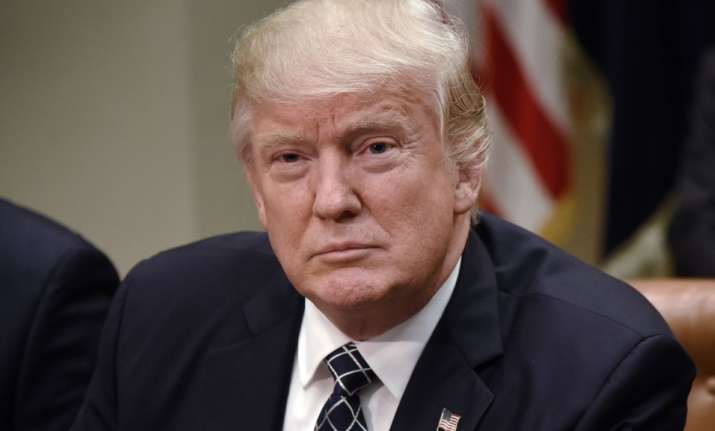 US President Donald Trump is likely to withdraw from the landmark Paris climate change agreement which was a major foreign policy legacy of his predecessor Barack Obama, media reports said today. 
In a tweet, Trump said he would be announcing his decision on the 2015 Paris climate deal in the next few days.
"I will be announcing my decision on the Paris Accord over the next few days. Make America great again!," Trump said. 
Two major news outlets Axis and CBS News reported that the US President had made a decision to withdraw from the Paris agreement on climate change and the administration has been informing world leaders about it. 
"Details on just how exactly the US will be withdrawing are still being worked out by a team that includes EPA administrator Scott Pruitt," CBS News reported. 
"A full, formal withdrawal could take up to three years to execute, unravelling one of former President Barack Obama's major achievements in office to reduce the impacts of climate change," it added. 
The Pruitt team is deciding on whether to initiate a full, formal withdrawal - which could take three years - or exit the underlying United Nations climate change treaty, which would be faster but more extreme, Axis reported. 
"Pulling out of Paris is the biggest thing Trump could do to unravel Obama's climate legacy. It sends a combative signal to the rest of the world that America doesn't prioritise climate change and threatens to unravel the ambition of the entire deal," it said. 
According to 'The Hill' newspaper, the move marks a dramatic departure from the Obama administration, which was instrumental in crafting the deal. 
"It also makes the US an outlier among the world's nations, nearly all of whom support the climate change accord," it said. 
A day earlier, Trump on return from his maiden overseas trip met with Pruitt. 
"One of the topics that they discussed, of course, was the President's upcoming decision on the Paris Climate Accords," White House Press Secretary Sean Spicer told reporters at his daily news conference. 
This is the subject that the President is spending a great deal of time on, and one that he spoke to the G7 members about during their meetings, he said. 
"Ultimately, he wants a fair deal for the American people and he will have an announcement coming on that shortly," Spicer said. 
Meanwhile, influential Republican Senator Ted Cruz yesterday urged the US President to withdraw from the Paris agreement on climate change. 
Earlier, a group of 22 Republican Senators including Senate Majority Leader Mitch McConnell in a letter urged Trump to withdraw from the agreement.
(Reopens FGN 59) 
Democratic leader Nancy Pelosi said Trump's likely decision to withdraw from the Paris climate deal poses a grave threat to the planet's future. 
"President Trump's decision to pull the United States out of the Paris Climate Accord is a stunning abdication of American leadership and a grave threat to our planet's future," she said. 
"In walking away from this agreement, the President is denying scientific truths, removing safeguards that protect our health and our environment, protecting polluters and their dirty energy agenda, and threatening our national and global security," Pelosi said in a statement. 
The Paris Accord honours the collective moral responsibility to leave future generations with a planet that is clean, healthy and sustainable, she noted. 
The agreement signed by 195 countries deploys the full force of governments around the world to halt the rise in carbon emissions that cause extreme climate events, including record droughts, horrific famines and devastating floods, in addition to thousands of deaths each year from asthma attacks and other air pollution-related diseases, she said. 
"Rejecting the pact also sends a strong message to the marketplace to direct innovative, entrepreneurial investments in the clean energy economy elsewhere," Pelosi said. 
"The majority of Americans in both parties know that climate change is real, and want clear, decisive action to arrest its dire effects. Democrats will continue to support the strong action of states, cities and the private sector to halt the march of climate change, no matter how destructive and short-sighted the decisions of this Administration continue to be," Pelosi said. 
Democratic National Committee chairman Tom Perez said not only did the Trump's decision fly in the face of scientific consensus about the impacts of climate change, it also defied the wishes of the business community, international allies, and religious leaders, including the Pope Francis. 
"Withdrawing from the Paris agreement would be a global embarrassment and a gross abdication of American leadership. President Trump should know that he can't stop a drought with a wall," Perez said. 
"He can't ban hurricanes from entering the country. He can't threaten a real storm with a Tweetstorm. He can't dismiss rising tides and temperatures as fake news. And no matter how hard he might try, he can't negotiate with Mother Nature for a better deal," he said.
(With PTI inputs)