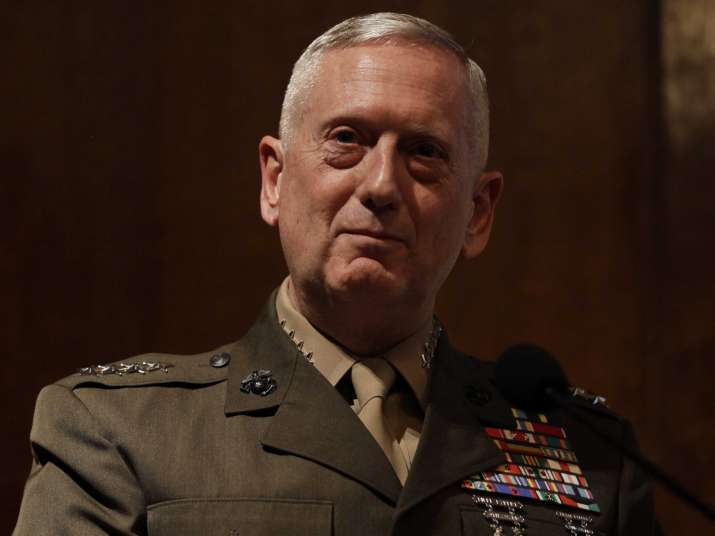 US President-elect Donald Trump has formally nominated James Mattis, a retired 4-star Marine Corps general who has long voiced concerns about the threat posed by Iran, as the Defence Secretary to replace Ashton Carter. 
66-year-old Mattis, who memorably said "it's fun to shoot some people", would add to a cabinet of national security super-hawks and signal a return to a more aggressive defence of American interests abroad. 
"I am proud to nominate General James Mattis to Secretary of Defence. He is one of the most effective generals and extraordinary leaders of our time, who has committed his life to his love for our country," Trump said in Fayetteville, North Carolina. 
"General Mattis is the living embodiment of the Marine Corps motto, 'Semper Fidelis,' always faithful, and the American people are fortunate that a man of his character and integrity will now be the civilian leader atop the Department of Defense. Under his leadership, we will rebuild our military and alliances, destroy terrorists.
Mattis joined Trump on stage at the event.
"Thank you President-elect for the confidence that you have shown in me," Mattis stated. "I'm grateful for the opportunity."
"What a great guy! He's going to be incredible," Trump responded. "If he didn't get that waiver, there would be a lot of angry people." Congress would have to provide Mattis a waiver to assume the post through separate legislation
Mattis would require a waiver from Congress to be eligible for the post, since a retired officer is needed to be out of uniform for at least seven years before taking control of the Pentagon responsibilities. 
With Republicans in control on Capitol Hill and the general praise for the general's career, the waiver would likely be a formality to obtain. 
Over a career spanning more than four decades in the Marine Corps, retired Gen. James "Mad Dog" Mattis has acquired a reputation as a blunt, bull-headed, "Marine's Marine."
The four-star general is a decorated war veteran who's led expeditionary forces in Iraq and Afghanistan. Most recently, Mattis served as chief of U.S. Central Command until 2013, when he retired amid disagreements with the White House over its foreign policy in the Middle East.
PTI inputs