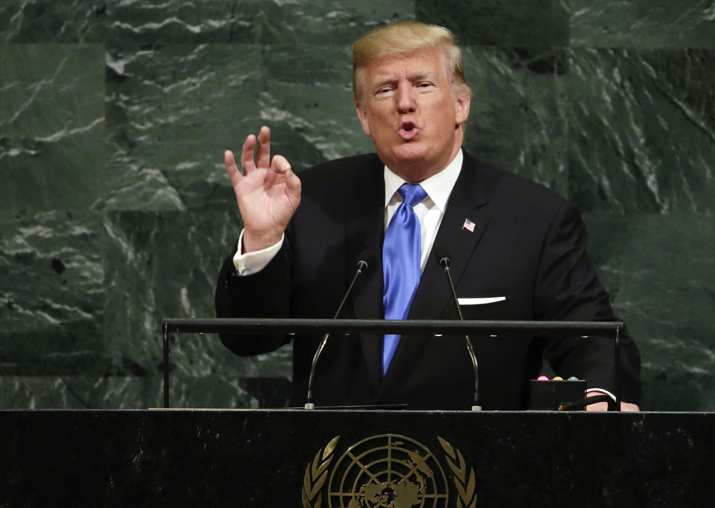 US President Donald Trump today talked tough on terror as he delivered his maiden address to the United Nations General Assembly. During his 40-minute long address, Trump told world leaders that 'it is time to expose and hold responsible' nations that provide funding and safe harbour to terror groups.
"It is time to expose and hold responsible nations that provide funding and safe harbour to terror groups. All responsible nations must work together to confront terrorists and the Islamic extremist that inspires them." "We will stop radical Islamic terrorism because we cannot allow it to tear up our nation and, indeed, to tear up the entire world. We must deny the terrorists' safe haven, transit, funding, and any form of support for their vile and sinister ideology. We must drive them out of our nation. It is time to expose and hold responsible those countries whose support and fi -- who support and finance terror groups like Al Qaeda, Hezbollah, the Taliban, and others that slaughter innocent people."
He said that the US and allies are working together throughout the Middle East to crush the loser terrorists and stop the re-emergence of safe havens they use to launch attacks on "all of our people". 
On Afghanistan, Trump said that his last month's new strategy for victory in the fight against "this evil in the land-locked" will yield positive results. "From now on, our security interests will dictate the length and scope of military operation, not arbitrary benchmarks and timetables set up by politicians. I have also totally changed the rules of engagement in our fight against the Taliban. And other terrorist groups."
In Syria and Iraq, Trump said, 'we have made big gains toward lasting defeat of ISIS'. "In fact, our country has achieved more against ISIS in the last eight months than it has in many, many years combined. We seek the de-escalation of the Syrian conflict, and a political solution that honours the will of the Syrian people." 
Lashing out at the he actions of the criminal regime of Bashar Al Assad, including the use of chemical weapons against his own citizens, even innocent children, he said that this shook the conscience of every decent person. "No society could be safe if banned chemical weapons are allowed to spread. That is why the United States carried out a missile strike on the air base that launched the attack."
Appreciating the efforts of the United Nations' agencies that are providing vital humanitarian assistance in areas liberated from ISIS, he said, "We especially thank Jordan, Turkey, and Lebanon for their role in hosting refugees from the Syrian conflict." 
"The United States is a compassionate nation and has spent billions and billions of dollars in helping to support this effort. We seek an approach to refugee resettlement that is designed to help these horribly treated people and which enables their eventual return to their home countries to be part of the rebuilding process. For the cost of resettling one refugee in the United States, we can assist more than ten in their home region."
Trump further said that he will 'always put America first' and the US can no longer be taken advantage of in its dealings around the globe. The President said that he will 'defend America's interests above all else' and that the US will 'forever be a great friend to the world', including its allies.
Trump said that that UN member states should unite to face global dangers, and rallied other countries to do their part in solving global issues, including sharing the burden of fighting terrorism.
During his first appearance here, Trump also made a call for sweeping reforms. "In recent years, the United Nations has not reached its full potential because of bureaucracy and mismanagement," he said.
The US is the UN's largest contributor, paying at least 25 percent of the operating budget. The President further encouraged other nations to consider joining in, reviewing the UN's spending and efficiency.