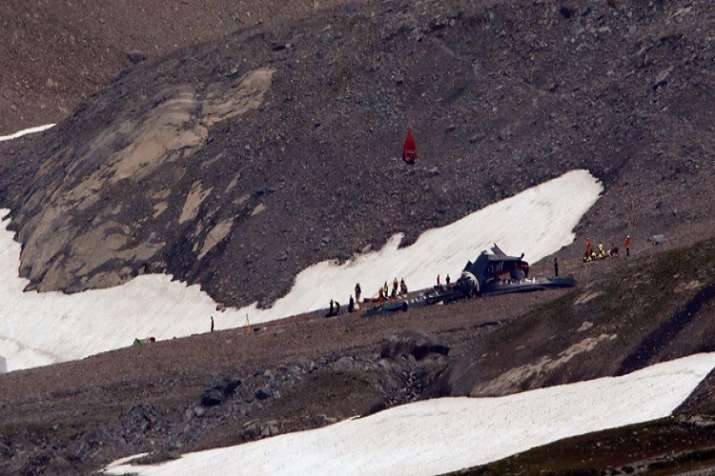 All 20 passengers on board were killed after a tourist plane crashed into a mountainside in southeast Switzerland.
"The police have the sad certainty that the 20 people aboard perished," police spokeswoman Anita Senti told media.
There were 11 men and nine women aboard, including an Austrian couple and their son, she said.
The Junker JU52 HB-HOT aircraft, built in Germany in 1939 and now a collectors' item, crashed into Piz Segnas, a 3,000-metre (10,000-foot) peak in the east of the country on Saturday.
The crash occurred at 2,540 metres on the mountain's western flank, Senti said.
"The plane turned 180 degrees to the south and fell to the ground like a stone," the witness said, adding that the debris was scattered over "a very small area," indicating an explosion was unlikely to have been the cause of the crash.
Police said earlier that five helicopters were involved in a search and rescue mission and the airspace over the crash site was to remain closed until late Sunday.
The aircraft belongs to JU-Air, a company with links to the Swiss air force, the ATS news agency reported.
JU-Air said on its website that it was "deeply saddened" and its "thoughts were with the passengers, the crew and families and friends of the victims". 
The company's flight operations were suspended, it said.
In another Swiss plane crash on Saturday, a tourist plane carrying a couple and two young children crashed in a forest in the Nidwald canton and immediately burst into flames. No survivors have been found.
Meanwhile, Swiss officials said that they're not aware of any distress call from an old-time prop plane that crashed in the Swiss Alps before it went down, killing 20 people. They also expect the investigation into the cause of the crash to be "relatively complex."
Daniel Knecht of the Swiss Transportation Safety Investigation Board said the plane appears to have hit the ground near-vertically and at high speed in Saturday's crash.
Speaking at a news conference Sunday in the Alpine resort of Flims, near the crash site, Knecht said the vintage plane presumably didn't have the crash-resistant cockpit voice and data recorders that more modern aircraft have.
He said officials have essentially ruled out a collision with another aircraft or hitting an obstacle such as a wire. He also says there's no indication of foul play or that the aircraft lost parts or broke up before the crash.
(With agency inputs)