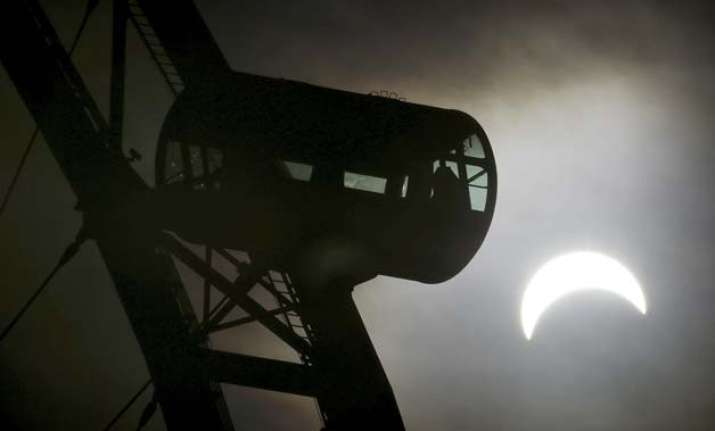 Palembang/New Delhi: People gazed at the sky in wonder and cheered while others knelt in prayer as a total eclipse of the sun unfolded over Indonesia on Wednesday. The rare astronomical event is being witnessed along a narrow path that stretches across 12 provinces encompassing three time zones and about 40 million people.
In other parts of the Indonesian archipelago and Asia, a partial eclipse is visible.
Thousands of eclipse-chasers have come from abroad and the government, which has been the promoting the event for more than a year, expects a substantial tourism boost. Thousands of men, women and children gathered in Sigi Biromaru, a hilltop town of Central Sulawesi province, shouted and clapped as the sun disappeared for more than two minutes. Hundreds of others were praying at nearby mosques.
Most eclipses are partial but when the moon is close enough to the Earth, the sun is completely eclipsed by the moon's shadow and only a faint ring of rays known as the corona is visible.
The entire eclipse, which begins with the first patch of darkness appearing on the edge of the sun, will last about three hours. For the viewer, the length of time the sun is totally eclipsed depends on their location along the path. The moments in which the sun is entirely obscured will last between 90 seconds and 4 minutes.
In the capital Jakarta, thousands of residents packed a planetarium at a downtown park where officials distributed about 4,000 filtered viewing glasses.
India misses total Solar Eclipse
India missed the spectacular phenomenon of a total solar eclipse today as only a partial eclipse was seen from some places in the country. The eclipse was seen from the eastern half of the country. In most of the places, the eclipse started either before sunrise or around sunrise - making the viewing of this spectacular cosmic event quite difficult.
The total solar eclipse was visible from within a narrow region which extends from the Indian Ocean through the east Asian countries like Sumatra, Borneo, Sulawesi passing through some islands belonging to Australia and ending at the middle of the Pacific Ocean, far away from any country.
In Kolkata, the eclipse started at 5:51 am and ended at 6:50 am. Along with Kolkata, the major places where the eclipse will be in progress during the sunrise are Siliguri, Coochbehar, Guwahati, Puri, Chennai and Kanyakumari.
Imphal experienced 1 hour 21 minutes of the eclipse.
With AP Inputs